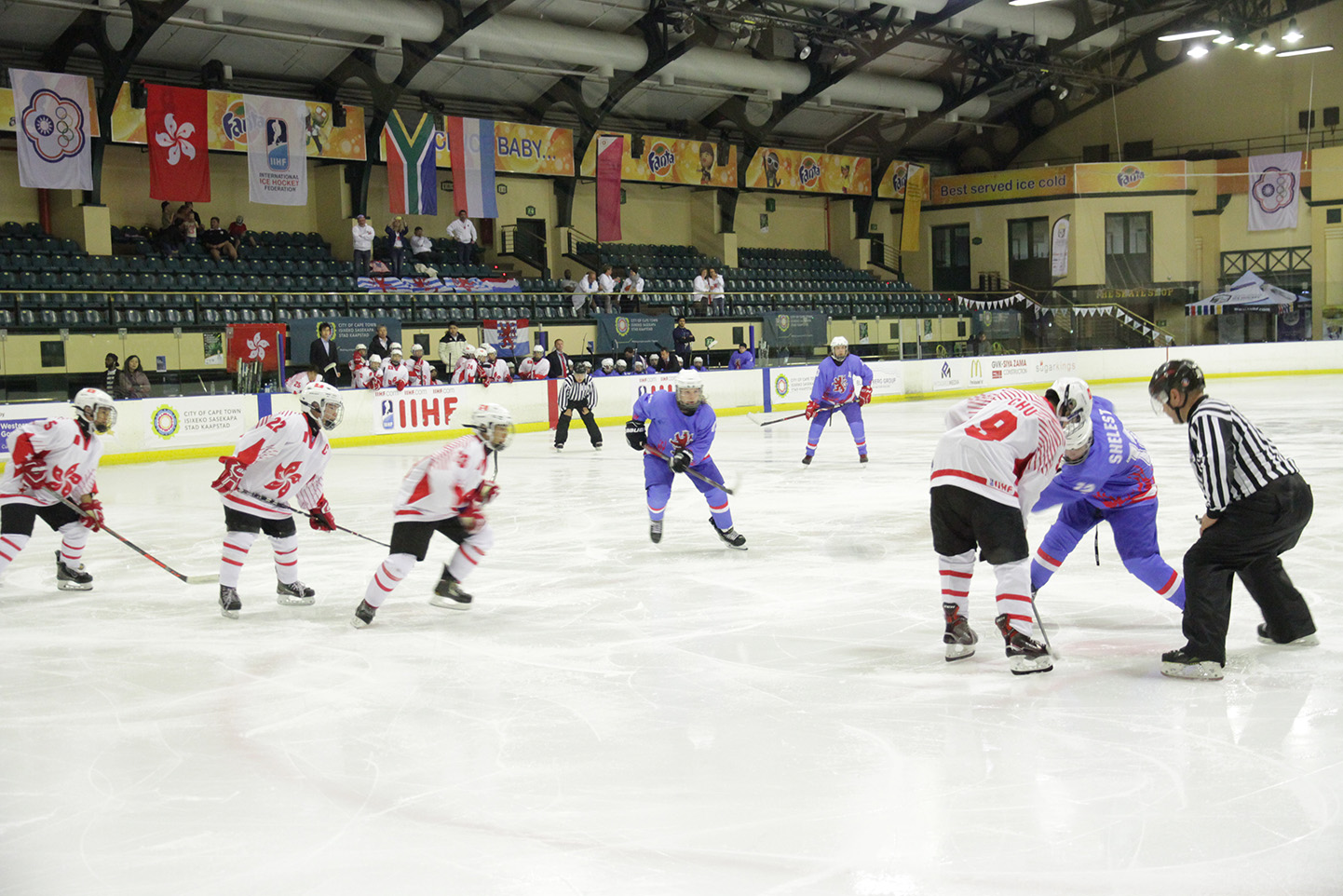 U18 Lions lost their opening game against Hong Kong / U18 Léiwen verléieren hiert éischt Spill géint Hong Kong / Les Lions U18 défaits lors de leur premier match contre Hong Kong
EN
Luxembourg's U18 national team suffered a 4-1 loss in the opening game of the tournament in Cape Town, South Africa.
Both teams started the game pretty nervously. Luxembourg had some chances with their strong skating but Hong Kong also created their spots with counter attacks. Mostly thanks to Hugo Ansay, who was like a wall in Luxembourg's net in the first period with 18 saves, the game was 0-0 after 20 minutes.
In the second period Luxembourg took some penalties. They killed two of them but during one Hong Kong managed to score. The puck was in the net already beforehand, but the referee had ruled it out after a premature whistle.
In the last minute of the period, Lions' assistant captain David Church carried the puck into the zone with strong skating. He rushed on the net and zipped the puck into the top corner. 1-1 after 40 minutes.
There was a feeling that perhaps Team Luxembourg was finally getting more into the game but that wasn't to be. Hong Kong improve their puck control and managed to score three unanswered goals after nice passing combinations.
Puck possession as a team was the key in this game. Luxembourg has strong skaters who can carry the puck but in hockey it's not enough. Hong Kong showed that with a good passing game they are a dangerous team, even against a bit bigger and stronger opponent.
In the next game on Wednesday, the Lions will meet Chinese Taipei. They were relegated last year from the higher division and according to what was seen in the practice, they will be an even faster and physically stronger team than Hong Kong. This means that Team Luxembourg needs to get the troops together and show good team defence on the fore-check, but also in front of their own net. The game starts at 14:00 and will also be live-streamed. The link will appear to www.icehockey.lu before the game.
***************************************
LU
D'U18 Nationalmannschaft huet d'Eröffnungspill zu Kapstadt géint Hong–Kong 4:1 verluer.
Béid Equipen hunn d'Spill relativ nervös ugefaangen. Lëtzebuerg huet sech e puer gudd Chancen duerch gudd Schlittschung fueren erspillt, mais Hong Kong konnt sech duerch Konterattacken am Spill haalen. E grousse Merci un den Hugo Ansay deen wéi eng Mauer am Lëtzebuerger Goal stoung an an dem éischten Drettel mat 18 gehaalenen Schëss ofgeschloss huet. An esou stoung et no 20 Minuten 0:0.
Am zweeten Drettel huet Lëtzebuerg e puer Stroofzäiten kritt. Sie hun vun den dräi Stroofzäiten zwou gudd iwwerstaan, an enger huet Hong Kong awer een Goal geschoss. Zum Schluss vum zweeten Drettel wuar den Puck am Goal, huet awer dunn net gezielt well den Schiedsrichter schon d'Spill oofgepaff haat.
An der leschter Minutt vum zweeten Drettel huet den Assistant Kapitän,David Church, den Puck mat staarkem Schlittschung fueren an den Géigner hieren Drëttel eranbruecht. Hien as op den Goal duergelaaf an huet den Puck uewen an den Wenkel geschoss. 1-1 no 40 Minutten.
Zum Schluss huet een daat Gefill gehaat dass d'Letzebuerger besser an d'Spill erankomm sin waat awer leider net den Fall wuar. Hong Kong huet hier Scheiwenkontroll verbessert an et faerdeg bruecht 3 onbeäntwert Goaler no e puer schéinen Passkombinatiounen ze schéissen. 
Den Scheiwenbesetz huet d'Spill gemach. Lëtzebuerg huet staark Schlittschungfuerer, déi d'Pucken spillen kënnen, awer am Hockey geht dat net duer. Mat gudde Passen huet Hong Kong bewisen, dass sie eng geféierlech Equipe kenne sinn, och geint eng méi staark an méi grouss Equipe. 
Am nächsten Match treffen eis Léiwen op Taiwan. Taiwan as d'lëscht Joer ofgestiegen, an vun dem wat mir am Training mattkritt hun, sinn sie méi séier an méi staark wéi Hong Kong. Dëst bedeidt dass d'Lëtzebuerger Equipe besser zesummen spillen muss, Drock op denen aaneren hier Verteideger maachen muss, an selwer och gudd verteidegen mussen. D'Spill fängt um 14:00 Auer un an gëtt och live iwwerdroen. Den Link dozou fannt daer, virum Spill, op www.icehockey.lu
***************************************
FR
L'équipe nationale des U18 a encaissé une défaite de 4-1 lors du match d'ouverture du tournoi à Cape Town, Afrique du Sud.
Les deux équipes ont commencé le match assez nerveusement. Le Luxembourg a eu certaines ouvertures avec son patinage puissant mais Hong Kong a créé leurs opportunités avec des contres attaques. Principalement grâce à Hugo Ansay , qui,  tel un mur devant le but Luxembourgeois avec 18 arrêts, a offert un score de 0-0 après la première période.
Pendant la seconde période, Luxembourg a reçu quelques pénalités. Ils ont survécu à deux d'entre elles, mais Hong Kong a marqué durant l'une d'elles. Le palet était déjà dans le but, mais l'arbitre ayant prématurément sifflé, il a été annulé.
A la dernière minute de la période, le capitaine assistant des Lions, David Church, a amené le palet dans la zone adverse avec son brillant patinage. Il s'est précipité vers le but et a envoyé le palet dans le « top corner » : 1-1 après   minutes.
Il y avait le sentiment que l'équipe du Luxembourg entrait enfin dans le match, mais cela n'a pas eu lieu. Hong Kong a bien contrôlé son palet et a réussi à marquer trois incroyables buts après de belles combinaisons de passes.
La possession du palet des équipes a été l'élément-clé du jeu. Luxembourg a de bons patineurs qui peuvent contrôler le palet mais, au hockey sur glace, cela n'est pas suffisant. Hong Kong a montré qu'avec un bon jeu de passes, ils sont une équipe dangereuse, même contre un adversaire un peu plus fort.
Lors du prochain match, mercredi, les Lions rencontreront Taiwan. Ils furent relégués l'an dernier de la division supérieure et d'après nos observations de ces derniers jours, ils seront plus rapides et physiquement plus forts que Hong Kong. Cela signifie que l'équipe luxembourgeoise doit se remobiliser après cette défaite et devra se montrer plus solide en défense mais aussi plus réaliste devant le filet. Le match commencera à 14:00 et sera également diffusé en streaming. Le lien apparaîtra sur www.icehockey.lu avant le match.