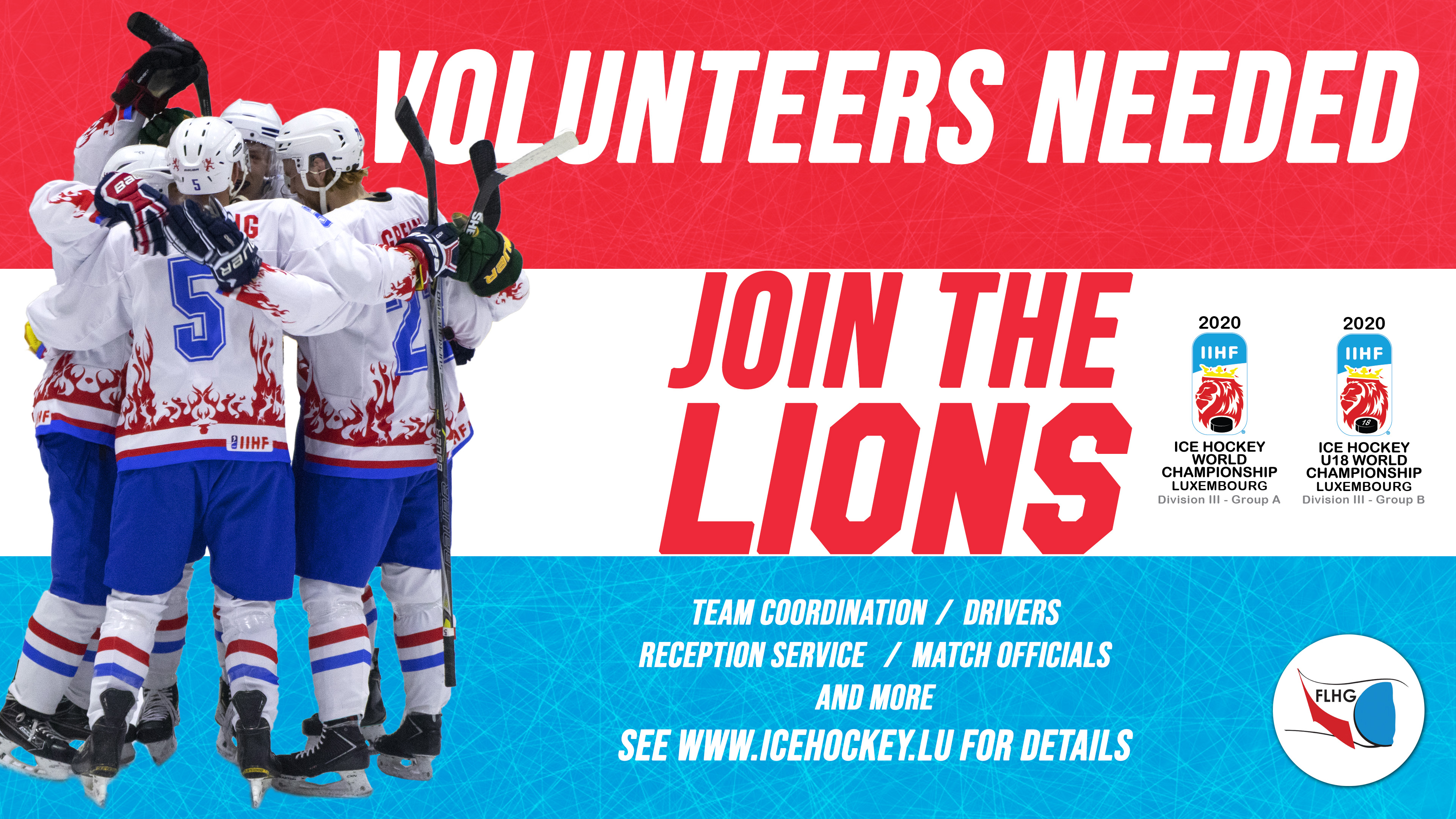 Recherchons des volontaires / Volunteers needed
Nous recherchons des volontaires

Championnats du monde U18 Division 3B du dimanche 29 mars au samedi 4 avril avec 6 équipes
Hong-Kong, Bosnie Herzégovine, Afrique du Sud, Nouvelle-Zélande, Kyrgisztan, Luxembourg

Championnats du monde Division 3A du dimanche 19 avril au samedi 25 avril avec 6 équipes
Turquie, Taipei, Turkmenistan, Corée du Nord, Emirats Arabes Unis, Luxembourg
Chaque championnat a 3 matchs dimanche, lundi, mercredi, vendredi et samedi à 12h30, 16h et 19h30. Luxembourg joue à chaque fois à 19h30. 

Tous les matchs et entraînements seront à la patinoire de Kockelscheuer.
Nous recherchons des volontaires pour: 
Coordination d'équipe: faire le relai entre les responsables d'équipes et l'organisation du tournoi (suivi ou changements de programmes, annulation d'un entraînement, etc), répondre aux questions pratiques des équipes sur le Luxembourg (où acheter, comment aller, etc). 1 coordinateur/coordinatrice par équipe (sauf Luxembourg). Requis: Anglais, être joignable par téléphone. Disponibilité du samedi au dimanche suivant.

Chauffeurs: 4 véhicules sont prévus pour conduire officiels et arbitres avant et après les matchs (nécessaires du samedi au dimanche). Requis: permis de conduire, anglais préférable

Service d'accueil : 
pour les matchs, 3-4 personnes pour diriger les spectateurs vers les zones prévues. Requis: aucun 

pour les matchs du Luxembourg: 2 personnes pour s'occuper de la loge VIP. Requis: Anglais, expérience hotellerie/restauration souhaitée, chaque matin: préparer des caisses de fruits pour les 6 équipes

Caisse / shop : Equipe de 3-4 personnes pour vente des tickets et vente merchandising. Requis: aucun

Boissons et nourriture: 
Stand boisson / bières - 4 personnes pour les matchs du soir (idéalement une équipe de 8 personnes par soir)
Grillades: pour le second tournoi uniquement - Equipe de 8 personnes pour le soir
Requis: aucun

Autres tâches nécessitant des connaissances en hockey sur glace:
5 statisticiens par match
4 officiels par match (table de marque, chrono, box pour pénalités). Requis: licence sportive hockey sur glace
Les volontaires auront accès gratuit aux matchs du championnats auquels ils contribuent.
Pour vous porter volontaire ou toute question: 
2020.icehockey.lu@gmail.com

We are looking for volunteers 


U18 Division 3B World Championships from Sunday 29 March to Saturday 4 April with 6 teams
Hong Kong, Bosnia-Herzegovina, South Africa, New Zealand, Kyrgisztan, Luxembourg

World Championships Division 3A from Sunday 19 April to Saturday 25 April with 6 teams
Turkey, Taipei, Turkmenistan, North Korea, United Arab Emirates, Luxembourg
Each championship has 3 games on Sunday, Monday, Wednesday, Friday and Saturday at 12:30, 16:00 and 19:30. Luxembourg plays each time at 19h30.
All matches and trainings will be at the ice rink of Kockelscheuer.
We are looking for volunteers for:
Team coordination: to act as a liaison between the team managers and the tournament organization (follow-up or changes of programs, cancellation of training sessions, etc.), to answer practical questions about Luxembourg (where to buy, how to go, etc.). 1 coordinator per team (except Luxembourg). Required: English, must be reachable by phone. Available from Saturday to the following Sunday.

Drivers: 4 vehicles are available to drive officials and referees before and after the matches (required from Saturday to Sunday). Required: Driver's license, English preferred.

Reception service :
for matches, 3-4 people to direct spectators to the designated areas. Required: none

for Luxembourg matches: 2 persons to take care of the VIP box. Required: English, hotel/restaurant experience preferred. every morning: prepare fruit boxes for the 6 teams

Cashier / shop: Team of 3-4 people for ticket sales and merchandising sales.

Food and drink:
Drink/beer stand - 4 people for the evening matches (ideally a team of 8 people per evening)
Barbecues: for the second tournament only - Team of 8 people for the evening

Other tasks requiring ice hockey knowledge
5 statisticians per game
4 officials per match (scoring table, timing, penalty box). Required: ice hockey sports license
Volunteers get free access to all games of the championship they contribute to. 
If you would like to volunteer or have any questions:
2020.icehockey.lu@gmail.com