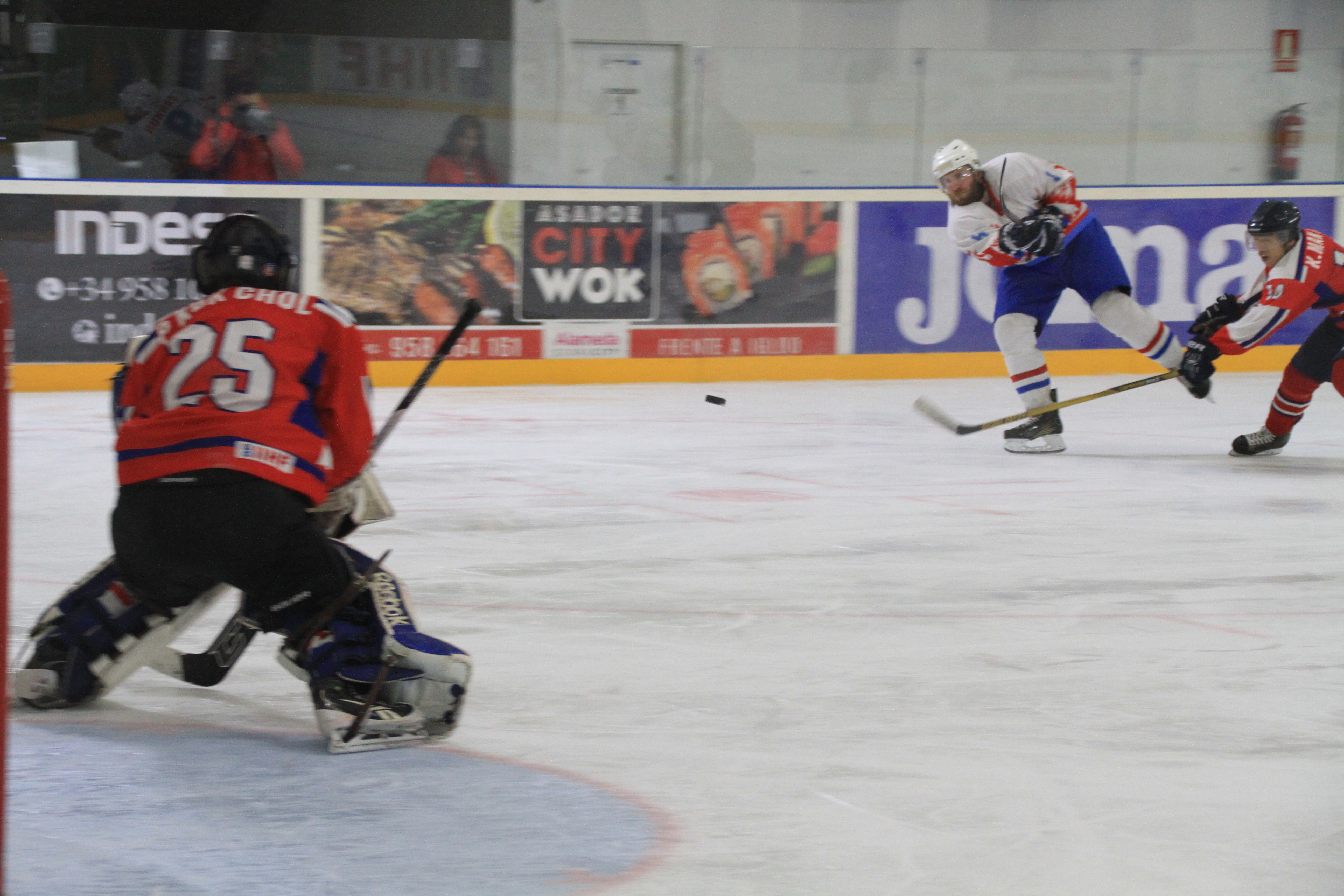 Painful victory for Team Luxembourg./Schmäerzhaft Victoire fir Team Lëtzebuerg./Une victoire douloureuse pour le Luxembourg.
EN

I never thought that this kind of title would be possible, but this is what happened in Granada on Friday. The Lions needed a two goals-victory against North Korea to confirm their position in division 2b. Unfortunately, we were only one goal away from that aim. North Korea was beaten with 2-1. The Lions still had a tiny bit of hope after that. If Mexico could have taken at least one point from Israel, Luxembourg had stayed in the division 2b. That hope disappeared as Israel beat Mexico with 5-3.

Both teams started the first period with very careful forechecking. North Korea was a bit ahead with better puck control and managed to score a goal after 12 minutes of playing. During the break Colm Cannon admitted that the Luxembourgers were nervous and that was the reason for our weak playmaking.

In the second period we saw a different Team Luxembourg. The guys were able to put the pressure in the Koreans' end and finally at the time 32:08, Colm Cannon scored his first goal of the tournament.

The third period continued the same way. After 5 minutes of playing, Marcus Eriksson scored the 2-1 goal with his famous wrister and we were only one goal away from staying in the league. Coach Fical had decided to give the responsibility to two lines. Even though the players gave everything on the ice, it was easy to see that they were tired as well. Both Benny Welter and Francois Schons got face to face with the Korean goalie once each, but sadly the puck didn't find its way into the net. Luxembourg chased one more goal by pulling out the goalie Mangen but unfortunately it didn't lead to the goal.

This means that Team Luxembourg will play in division III again next season. It was so close but still too far away. Benny Welter was chosen as a best player of the game and Gilles Mangen, rightfully, as MVP of Team Luxembourg in the tournament. We all need to give an extra credit to Mirko Mosr who scored half of the teams' goals in the tournament.

The whole team wants to thank all of our supporters who came to watch our games to Granada but also all you fans who kept supporting us via social media. We are still a small hockey country but obviously we are getting bigger together!
LU
Ech hat ni geduecht datt esou een Titel kéint méiglech sinn, awer dat ass wat an Grenada e Freideg geschitt ass. D'Léiwen hunn dräi Goler géint Nord Korea gebraucht fir hir Positioun an der Divisioun 2b ze haalen.  Leider huet eis ee Goal gefeelt.  Nord Korea gouf 2-1 geschloen. Et gouf nach eng kleng Hoffnung fir d'Léiwen duerno. Wann Mexiko et fäerdeg bruecht hätt en Punkt vun Israel ze klauen, dann wär Lëtzebuerg an der Divisioun 2b bliwwen.  Ma d'Hoffnung war séier zu Enn wéi Israel Mexiko 5-3 geklappt huet. 
Béid Equippen hunn déi éischt Period mat ganz virsiichtegen Forechecking ugefaangen.  Nord Korea war fir, mat enger besserer Kontroll vum Puck, an huet no 12 Minutten hiren éischte Gol geschoss. Wärend der Pause, huet de Colm Cannon zouginn dass d'Lëtzebuerger nervös wieren an dass dës de Grond fir hier schwaach Performance wier. 
Am zweeten Drëttel hunn mir een anert Team Lëtzebuerg gesinn.  Et ass de Spiller gegléckt den Drock op de Nord Koreaneschen Gol ze erhéijen an schlussendlech, um 32.28 Minutten huet de Colm Cannon säin éischte Gol vum Championnat geschoss. 
Déi drëtt Period wor genau selwecht.  No 5 Minutten Spillzäit huet de Marcus Eriksson den 2-1 mat sengem berühmten « Wrister » geschoss an mir waren just nach een Gol dovun ewech an der Divisioun ze bléiwen.  De Coach Fical huet decidéiert d'Responsabilitéit un zwou Linne ze ginn.  Obwuel d'Spiller alles um Äis ginn hunn, huet een séier gesinn dass si midd waren.  De Benny Welter an de Francois Schons kruten jiddereen hier Chance mam Goalie ma leider wollt de Puck net eran goen.  Lëtzebuerg huet probéiert een weidere Gol ze schéissen an dem et de Goalie duerch een zousätzleche Spiller ersat huet, mat et huet net geklappt. 
Dat heescht dass d'Lëtzebuerg nächst Saison nees an der Divisioun III spille wäert.  Et war esou knapps, ma awer ze vill wéit ewech.  De Benny Welter guff als beschten Spiller vum Match ausgezeechent an der Gilles Mangen zu Recht als MVP (Most Valuable Player) fir Team Lëtzebuerg am Championnat.  Mir sinn besonnesch houfreg op den Mirko Mosar deen d'Halschent vun der lëtzebuergeschen Goler geschoss huet. 
D'ganz Equippe seet  een grousse Merci un all eis Supporteren déi op Grenada komm sinn fir d'Matcher ze kucken ma awer och un all eis Fans déi eis iwwert social media ënnerstëtzt hunn.  Mir sinn nach ëmmer een klengt Äishockeyland ma mir ginn ëmmer méi grouss.
FR
Je n'aurais jamais pensé que ce genre de titre était possible, mais c'est bien ce qui s'est passé à Grenade vendredi. Les Lions avaient besoin d'une victoire avec deux buts d'écart contre la Corée du Nord pour confirmer leur maintien dans la division 2b, mais nous ne sommes malheureusement rester qu'à un but de cet objectif. La Corée du Nord a été battue 2-1. Les Lions gardaient néanmoins une once d'espoir à l'issue du match. En effet si le Mexique avait pu prendre au moins un point à Israël, le Luxembourg restait dans la division 2b. Mais cet espoir s'est évanoui avec la victoire d'Israël (5-3).
Luxembourg et Corée du Nord ont entamé la première période sur des positions très prudentes. La Corée du Nord gardait un petit avantage avec un meilleur contrôle de la rondelle et réussissait à marquer après 12 minutes de jeu. Pendant la pause, Colm Cannon reconnaissait que les Luxembourgeois étaient nerveux et qu'il s'agissait là d'une des raisons pour laquelle notre jeu était faible.
En deuxième période, nous avons pu voir une équipe luxembourgeoise différente. Les gars ont réussi à mettre la pression sur la fin des Coréens et finalement, à 32:08, Colm Cannon marquait enfin son premier but du tournoi.
La troisième période s'est poursuivie de la même manière. Après 5 minutes de jeu, Marcus Eriksson marquait le 2-1 avec son fameux poignet et nous n'étions plus qu'à un but de rester dans la ligue. Coach Fical avait décidé de donner toutes les responsabilités à seulement deux lignes. Même si les joueurs ont tout donné sur la glace, il était évident qu'ils étaient au bord de l'épuisement. Benny Welter et François Schons se sont tour à tour retrouvés en face à face avec le gardien coréen, mais la rondelle n'a malheureusement jamais trouvé le filet. Le Luxembourg a couru après ce but décisif en retirant le gardien Mangen, mais sans succès.
L'équipe Luxembourgeoise jouera donc de nouveau en division III la saison prochaine. Nous étions si proches, mais encore trop loin. Benny Welter a été choisi comme meilleur joueur du match et Gilles Mangen, à juste titre, comme MVP de l'équipe du Luxembourg dans le tournoi. Nous devons tous saluer la prestation de Mirko Mosr qui a marqué la moitié des buts de l'équipe dans le tournoi.
Toute l'équipe tient à remercier tous ses supporters qui se sont déplacés pour assister aux matchs à Grenade, mais aussi tous les fans qui ont continué à nous soutenir via les médias sociaux. Nous sommes encore un petit pays de hockey, mais il est évident que nous grandissons ensemble !