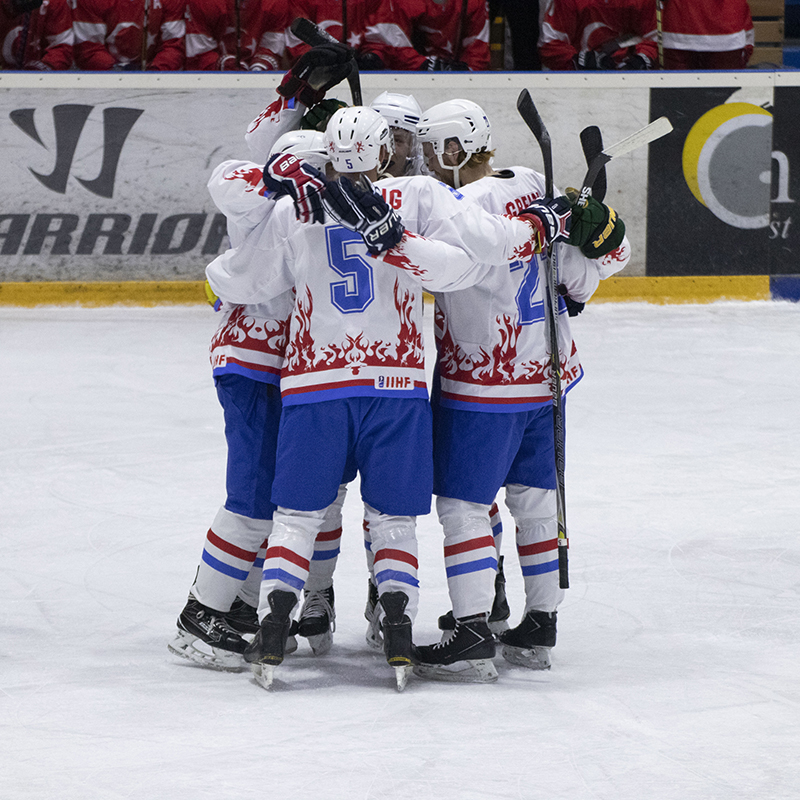 Olympic Ice Hockey comes to Luxembourg
 November 8-10 Patinoire de Kockelscheuer plays host to Olympic Ice hockey for the first time ever.
In 1924, Chamonix in the French Alps was the site for the 1st ever Winter Olympic games. A celebration of the best winter sports athletes the world had to offer. Competing in a variety of disciplines hoping not only to achieve personal glory but to bring pride to the nation they represented. Ice hockey has been a part of the Winter Olympics since its inception in 1924. Unsurprisingly to most, Canada and USA would claim gold and silver respectively in those games. What may shock many in today's hockey world is that the bronze medal for 3rd place was claimed by Great Britain. Since that historic beginning in the French Alps, Canada has ruled the games with a record haul of 16 medals (9 gold, 4 silver and 3 bronze). 
This weekend, the journey to the 2022 games in Beijing, China will begin in Luxembourg and Sanya, China with the 1st preliminary qualification rounds. In China, group O will consist of Chinese Taipei, (3-2 vanquishers of Luxembourg back in April's World Championships), Hong Kong, Kuwait and Thailand. The winners of group O will progress to the 2nd of 4 rounds in Romania in December.
Our focus however will be on group N this weekend as for the 1st time since Luxembourg joined the International Ice Hockey Federation (IIHF) in 1912, they will not only compete but host Pre-Olympic qualification. From Friday 8th November until Sunday 10th November, Patinoire de Kockelscheuer will play host to 6 match ups between the hosts Luxembourg (LUX), United Arab Emirates (UAE), Bosnia & Herzegovina (BIH) and Kyrgyzstan (KGZ). The prize for the winner this weekend is a 2nd round trip to Barcelona, Spain on December 13-15 to face Mexico, Spain and the 28th World ranked Netherlands. But first, round 1.
Coming off of a disappointing 4th place finish in April's World Championship, team Luxembourg has seen something of a refresh to the lineup. Coming back into the squad is veteran goalie Philipe Lepage who will provide competition to Marcus Anselm and Sven Crutchen for the starting role. Anselm is coming off of an outstanding rookie World Championship where he started every game. Also returning to the squad are Ben Houdremont & Nicolas Mossong of the Beaufort Knights and Gilles Biver, Tony Jakubse and Thierry Beran from Tornado Luxembourg. There are 1st senior national team call ups for Markus Beran (Younger brother of Thierry Beran and son of Luxembourg hockey legend Robert Beran) and David Church, who earned his spot following an eye opening performance during the Under 18 World Championships in South Africa this past spring. 
The role of team captain will have a new face this season, as long serving captain Ronny Scheier retired from International ice hockey in the summer to focus on work and family. Ronny is currently enjoying the lighter game schedule playing for the Trophy Fédéral competing Cool Puckers team. The new captain will be Colm Cannon who is looking forward to the tournament this weekend saying, "As a hockey player for me this is a dream come true to be able to play for my country in an attempt to make it to the Olympics. I don't believe that in sport there is a higher honour.." Luxembourg will be lead once again by head coach Petr Fical and coach John Bierchen who have been training the Lions on a weekly basis since the season began back in early September.
Although the Lions enter this tournament as the favourites and highest ranked in the group (43rd), the path to the 2nd qualifying round will by no means be easy. The first opponent on Friday night will be Bosnia & Herzegovina who will be looking to avenge a 13-0 hammering by Luxembourg in the teams' last meeting back in 2016. 
Next up on Saturday night will be against a brand new opponent from Kyrgyzstan. Although newcomers to the international stage this year, Kyrgyzstan made quite an impression in April's World Championship Qualification round. "During four days it was a neck-and-neck race between the hosts (UAE) and newcomer Kyrgyzstan, who both had four wins in four games. Players who originally learned their hockey in Russia and Kazakhstan such as Vladimir Nosov, Mikhail Chuvalov, Vladimir Tonkikh and Alexander Titov dominated the scoring race in the Kyrgyz colours, however, due to eligibility issues with foreign-born players occurring, their first four games were forfeited and the tournament win was out of sight." Recounts the IIHF website. 
Luxembourg's final opponent will be the men from the United Arab Emirates. As a result of Kyrgyzstan's disqualification and their own tremendous play, UAE won the 2019 World Championship qualifying round and will not only face Luxembourg this weekend, but also pay a visit next spring for the 2020 division 3 world championships (Also at Patinoire de Kockelscheuer). Although one may not commonly associate the nation from the middle east with winter sports, make no mistake about it, lead by Artur Zainutdinov, the UAE knows how to score goals. Racking up 46 in 5 games back in April. 
It's all to play for this weekend at Patinoire de Kockelscheuer. The Lions remember the disappointment of the 2019 IIHF Division 3 world championships when it could be argued they underestimated Chinese Taipei and Turkmenistan. Don't expect the men from Luxembourg to make the same mistake this time around and will look to roar into round 2 in front of a packed home crowd chanting "Roude Léiw, huel se!"

Article by Liam McEvoy
The schedule for this weekend is as follows:
Friday 8th November 2019 
15:45 United Arab Emirates vs Kyrgyzstan
19:15 Bosnia & Herzegovina vs Luxembourg
Saturday 9th November 2019
15:45 United Arab Emirates vs Bosnia & Herzegovina
19:15 Luxembourg vs Kyrgyzstan
Sunday 10th November 2019
15:45 Kyrgyzstan vs Bosnia & Herzegovina
19:15 Luxembourg vs United Arab Emirates

Lëtzebuergesch

Denn 8. bis 10. November ass Schlittschungspist Kockelscheuer fir eischte keier Gaastgeber vun denn Pre Qualificatiounen am Aishockey. 
1924 goufen dei allereischt olympeg wanterspiller zu charmoix an den franseischen Alpen duechgefouert. Dobai sinn dei beschten Athleten vum Wantersport aus aller welt ugetrueden, net nemmen aus perseinleschem eiffer mee och fir stolz hir natiounen an varieis wantersportarten ze vertrieden. Aishockey war sait der Grennung 1924 un als Sportart dobai. Et war keng Iwweraschung, dass grad Canada an d`USA an deser Kategorie Gold an Selwer mattheem geholl hunn. Iwweraschenderweis hunn D`Englànner deemools D`Bronze Medaille gewonnen. Vun dem historeschen Start un huet Canada D`Spill beherrscht an sech enn staatleschen Record vun 26 medaillen obgebaut. (9 Gold, 4 Selwer, 3 Bronze) 
Dei olympeg Spiller 2022 an Beijing China, fannen hieren Start desen Weekend an Letzebuerg souwei an Sanya. China matt der eischter pre- elimineierender Ronn. D`Gruppe O besteht aus denn Equippen Taipei ( dei d`letzebeur equippe an der weltmeeschterschaft leschten abrell 3-2 besiegt huet), Hong Kong, Kuwait an Thailand. D`Gewenner vun deser Gruppe (Gruppe O) kommen dementspriechend virun an spillen dei zweet vun 4 Ronnen zu Rumänien am Dezember.  
Denn Focus desen Weekend leit trotzallem ob der Gruppe N, doduech dass des net nemmen deelhellt, mee och denn Gaastgeber ass seit Letzebuerg 1912 fir eischte keier der internationaler federatioun vum aishockey (IIHF) beigetrueden ass. Vum Freiden dem 8. November un bis denn 10. November wert Schlittschungsspist Kockelscheuer d`ais frai ginn fir ob 6 matcher ze inviteieren. Des bezeihen sech ob Equippen Letzebuerg (LUX), d`Arabeg emiraten (UAE), Bosnien (BIH) an Kyrgyzstan (KGZ). 
Denn Gewenner aus deser Ronn, dei sech desen Weekend entscheed, packt et deemno an dei zweet ronn, waat sech matt engem Trip ob Barcelona, Spunien am Dezember (13-15) bezuelt mecht. Do treffen se dann hier nächst Geigner, dei dann Mexico, spunien an Holland ( dei ob der weltranglescht ob plaaz 28 stinn) wären. Mee lo mol konzentratioun ob dei eischt ronn. 
Nodeems Letzebuerg eng enteuschend 4. plaaz an der weltmeeschterschaft am abrell erspillt huet, huet equippe sech fir eng kleng erfreschung ob bezuch vun der spillerobstellung entscheed. Zereck am Gruppe fennd sech ennert aanerem den veteran goalie, Philip Lepage, deen sengen Kolleegen Marcus Anselm an Sven Crutchen D`Stir bidden wert. Denn Marcus Anselm kennt direkt vun enger herausragender Leeschtung aus der Weltmeeschterschaft zereck, wou hen all Spill um Start war. Mee d`equippe huet och Revenaen wei denn Ben Houdremont an Nicolas Mossong, dei bei denn Beeforter Knights spillen obgeholl, souwei denn Gilles Biver, Tony Jakubse an Thierry Beran vun denn Tornado Letzebuerg. Erwähnenswert sinn och dei zwee jängsten Spiller, denn Marcus Beran (klengen Brudder vum Thierry Beran, an Jong vun der letzebeuescher hockey legend Robert Beran) an denn David Church, deen sech seng Plaaz wuel verdengt huet, no senger iwweragender leeschtung ob der weltmeeschterschaft vun denn junioren an süd africa , lescht freijoer. 
D`Roll vum Capitain huet dest Joer en neit Gesiicht, doduerch dass deen laang eirenden Ronny Scheier zeréckgetrueden ass, fir sech ob Abescht an Famill ze konzentréieren. Dënn Ronny spillt mëttlerweil an enger Competitiounsmannschaft, genannt Cool Puckers. Fir dënn Ronny iwwerhëlt deen schonn virdrun genannten Colm Cannon deen mat Zouversiicht ob dënn Weekend kuckt.  
"fir mech als Äishockeyspiller ass et en Dram deen an Erfëllung geet d`Méigleisegkeet ze hunn fir mäin Land ze spillen an olympesch Spiller unzestriewen. Ech gleewen net dass et am Sport eng méi héich Éier gëtt." - Colm Cannon   
Lëtzebuerg gëtt alt erëm vum Head Coach Petr Fical an John Bierchen geleet, déi eis Léiwen säit dem freien September wöchentleg trainéiert hunn. Och wann d`Leiwen als eng Art Favorit an dësen Tournament starten, doduerch dass se deen heischsten Rang aus der Grupp hunn (43.), ass hiren Wee ganz an guernet einfach. Denn Léiwen hiren éischten Géigner dësen Freiden ass Bosnien, déi hier laang ersehnten Revange vun 2016 verlaangen, nodeems se deemools geind letzebuerg 13-0 verluer haaten. Dorob folgend spillt Letzebuerg Samstes dann géint dënn fusch neien Géigner , Kirgistan. Och wann des nei sinn am internationalen beraisch dëst Joer, hunn se keen schlechten Androck ob der Qualifikatioun vun der Weltmeeschterschaft am Abrëll hannerlooss.  
"Wärend 4 deech war et eng knapp Cours teschend dënn gaaschtgeber (UAE) an dem Newcomer Kirgistan. Béid Equippen haten 4 wenn an 4 gespillten Matcher. Spiller déi gréisstendeels an Russland an Kasachstan Hockey spillen geleiert hunn wei dënn Vladimir Nosov, Mikhail Chuvalov, Vladimir Tonkilch an Alexander Titiov hunn d`Spill mat hiren dominanten Treff geleet. Trotzallem, weind Problemer bei der Bedeelegungsberechtegung fir am Ausland gebuere Spiller , sinn hier 4 éischt Matcher verfall an dënn gewann war ausser siicht." beschreift IIHF website.  
Duerch Disqualifikatioun vun Kirgistan an och duerch sportlech Leeschtung hunn Arabesch Emiraten d`Qualifikatiounen fir Weltmeeschterschaft 2019 gewonne an trieden elo dësen Weekend géint letzebeuer Equippe un. Mee sie kommen och nächst Fréijoer (2020) fir Weltmeeschterschaft an der drëtter Divisioun erëm (déi nees ob der Kockelscheier stattfënnt). Och wann een an éischten Gedanken UAE net mat Wantersport verbennd sollt een se net ënnerschätzen, ugefouert vun dem Artur Zainutdinov, wëssen UAE wei een Goaler schéisst.  
D`Léiwen erënneren sech un d`Enttäuschung vun der Weltmeeschterschaft 2019 (div. 3) bei der argumentéiert kéint ginn ob se chinesesch taipei an Turkmenistan ennerschaat haten. Erwaart net, dass d`Lëtzebuerg dësen Feeler nees begeet, si kennen et kaum erwaarden sech hiren Wee an déi zweet ronn virun enger vollgepaakter hal roude léiwen Fans ze erkämpfen déi ruffen  
"Roude Léiw, huel se !"   
 
Translation by Stella Thiesen