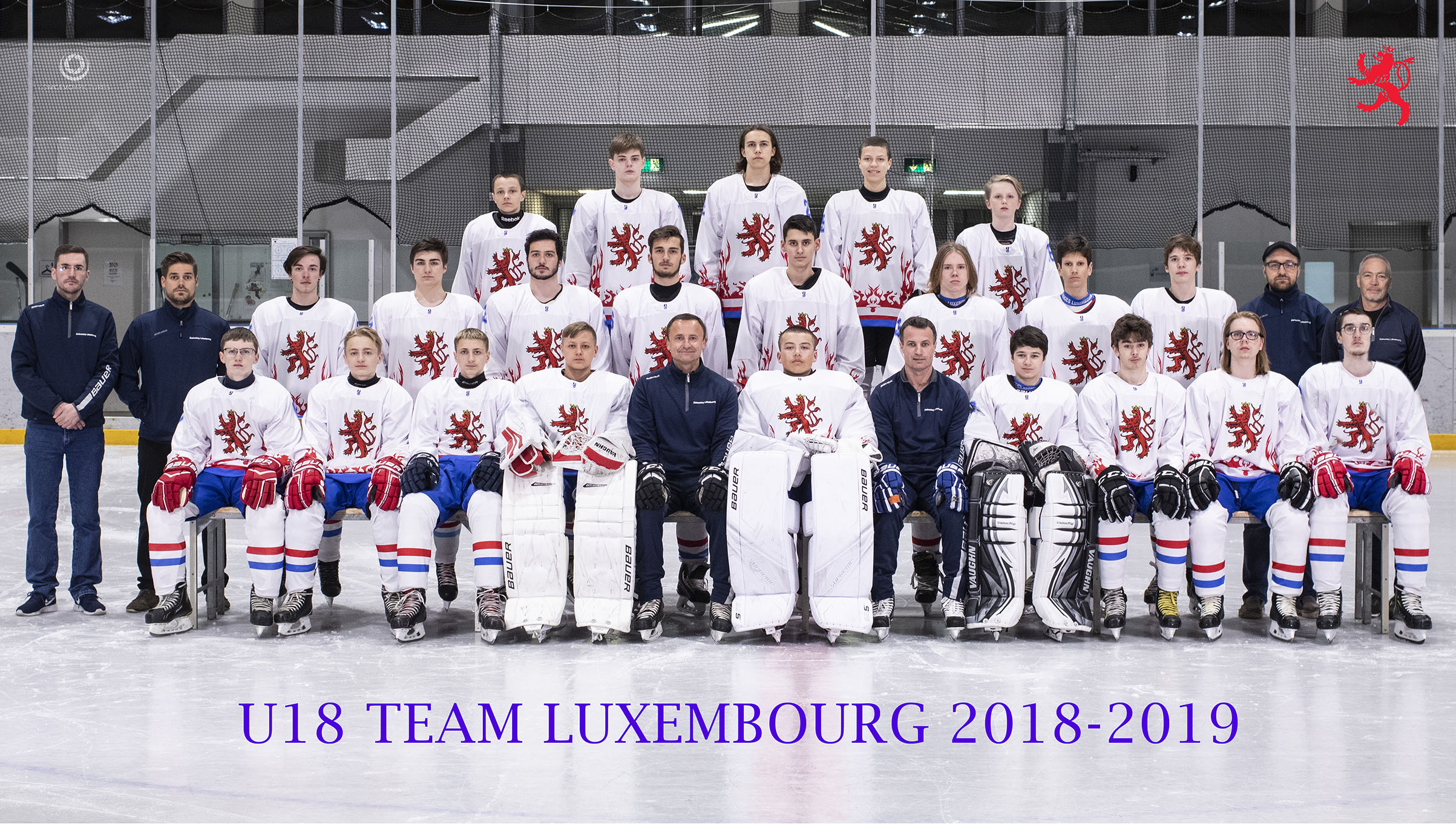 Luxembourg's U18 national team of ice hockey goes to South Africa / Déi letzebuergesch U18 Nationalequipe flitt an Südafrika. / L'équipe nationale luxembourgeoise de hockey sur glace U18 se rend en Afrique du Sud
EN

The hockey boom in Luxembourg keeps running and one sign of it is that after almost 20 years the country has a U18 team to send to the IIIB division World Championship tournament which is played in a Cape Town, South Africa 9th-12th of April.
The last time Luxembourg had U18 team in 2000 when the golden generation with Scheiers, Welters etc were in that age group. This generation is getting older and it is about time to start to building a new, hopefully golden, generation.
Team Luxembourg contains players from three different clubs: Huskies, Knights and Tornado. The age range is pretty wide. The youngest guys are just 14 years old while the eldest just turned 18.
In the tournament Luxembourg will meet three teams. Hong Kong, Taiwan(who relegated from division IIIA) and tournament host South Africa.
According to our scouting reports, Taiwan should be the hardest opponent. Last year they played tight games in the higher level and even managed to win one. Also, their key players from the last tournament are still in the age that they can take part this tournament.
South Africa as a host must be strong as well as they probably want to show their best on their home land. Rumor has it that in South Africa there is lack of ice time, so teams need to practice a lot by playing inline hockey.
Hong Kong apparently have similar problems as South Africa with ice time and they are not used to playing full 60 minutes games.
Team Luxembourg is a bunch of energetic boys. Strength of the team is probably that many of the players are already used to playing games at the senior level with Tornado, Beaufort Knights, senior national team and also with Huskies in the Lux Cup. One weakness could be that we don't have experience from this level yet. So everything is going to be new. If the team plays with good discipline and manages to focus itsenergy on the correct things, anything is possible.
The media team will be present in South Africa, so a lot of content will appear on our social media channels. Stay tuned!
 ********************************
LU

Den Hockey Boom hei zu Letzebuerg hält un, an een Zeechen doviir ass dass Letzebuerg no baal 20 Joer, eng U18–Equipe huet déi se op op eng Divisioun IIIB–Weltmeeschterschaft hin schecken kann, déi dest Joer an Kapstadt an Südafrika vum 9.–12. Abrell) ausgedroen gett. 

Déi leschten Kéier wou Letzebuerg eng U18–Equipe op eng Weltmeeschterschaft schecken konnten, wuar an der gellener Zäit vun den Scheier'en, Welter'en asw. Des Genaratioun ass awer elo ze aal ginn an et gett Zäit eng nei, hoffentlech gellen, Generatioun obzebauen.

An der letzebuergescher Equipe sin Spiller vun 3 verschiddenen Clubben: den Huskies, den Knights an den Tornado. Den Altersennerscheed ass nach ewell zimlech héisch. Den Jengsten huet 14 Joer an den eelsen huet der 18.

An der Meeschterschaft trefft Letzebuerg op dräi Equipen: Hong Kong, Taiwan (déi aus der IIIA–Divisioun gefall sin) an den Gastgeber Südafrika.

No eiser Analys misst Taiwan den schwéiersten Géigner sinn. Sie hunn daat lescht Joer gudd Spiller op engem héigen Niveau gespillt an esouguer een Spill gewonnen. Hier Schelsselspiller vun der leschter Meeschterschaft, sinn och nach an deem Alter wou se an deser Groupe mattspillen kennen. 

Südafrika als Gastgeber muss staark sinn, well sie och hiert Bescht an hierem Land weisen wellen. Rumeuren soen dass een Mangel un Äiszäit besteht, sou dass d'Equipen  trainéieren mussen andeems se Inline Hockey spillen. 

Hong Kong huet anscheined ähnlech Problemer matt der ÄIszäit ewéi Südafrika an sie sinn net gewinnt komplett 60 Minutten Matcher duerchzespillen.

Team Letzebuerg as eng Grupp mat energeschen Bouwen. D'Stärkt vun der Equipe ass dass vill vun den Spiller schon bei den erwuessenen Equipen, den Tornado, den Beaufort Knights, Herrennationalequipe wéi och mat den Huskies am LuxCup matgespillt hunn. D'Schwächt kann sinn dass sie nach keng Erfahrung op esou engem Niveau hunn ze spillen. Et ass alles nei vir sie. Wann d'Equipe et packt mat gudder Disziplin ze spillen an wann sie et faerdeg brengen sech op daat Wichtegst ze konzentréieren, ass alles méiglech. 

D'Media Team ass och an Süd Afrika dobäi , an et waerten vill Berichter op eiser Social Media Säit gepost gin. Bleiwt drun!

***********************************
FR
Le boom du hockey au Luxembourg prend encore un peu plus d'ampleur. Pour la première fois depuis 20 ans, le Luxembourg enverra une équipe U18 au championnat du monde de division IIIB qui se déroule cette année au Cap, en Afrique du Sud, du 9 au 12 avril.
Il faut remonter à 2000 pour voir le Luxembourg participer à ces championnats du monde U18. C'était à l'époque les grands débuts de la génération dorée des Scheiers, Welters et autres… Cette génération a maintenant vieilli et il est grand temps d'en bâtir une nouvelle.
L'équipe luxembourgeoise est composée de joueurs de trois différents clubs : Huskies, Knights et Tornado. La tranche d'âge est assez large. Les plus jeunes n'ont que 14 ans alors les plus vieux viennent d'avoir 18 ans.
Dans le tournoi, le Luxembourg rencontrera trois équipes : Hong Kong, Taiwan, relégué de la division IIIA et l'hôte du tournoi, l'Afrique du Sud.
D'après nos informations, Taiwan devrait être l'adversaire le plus coriace. Ils n'avaient pas démérité l'an dernier dans la division supérieure avec des matchs serrés et même une victoire. Leurs joueurs clés du dernier tournoi sont encore dans la classe d'âge.
L'Afrique du Sud, en tant qu'hôte, se doit d'être forte, et les Sud-Africains voudront donner le meilleur d'eux-mêmes sur leurs terres... Il se dit qu'en Afrique du Sud, le temps de glace pose problème et que les équipes sont souvent contraintes de s'entraîner en jouant au roller-hockey.
Hong Kong a apparemment les mêmes problèmes que l'Afrique du Sud concernant le temps de glace et est peu habituée à jouer des matchs complets de 60 minutes.
Team Luxembourg est un groupe de garçons énergiques. Beaucoup de joueurs sont déjà habitués à jouer des matchs de niveau senior que ce soit avec les Tornado, les Beaufort Knights, l'équipe nationale senior mais aussi avec les Huskies dans la Lux Cup. Ce sera une force. Le point faible peut être que nous n'avons pas encore l'expérience de ce niveau, donc tout sera nouveau. Si l'équipe réussit à rester disciplinée et parvient à concentrer son énergie sur les choses essentielles, tout est possible.
L'équipe média sera présente en Afrique du Sud et de nombreux contenus apparaîtront sur nos chaînes de médias sociaux. Restez à l'écoute !