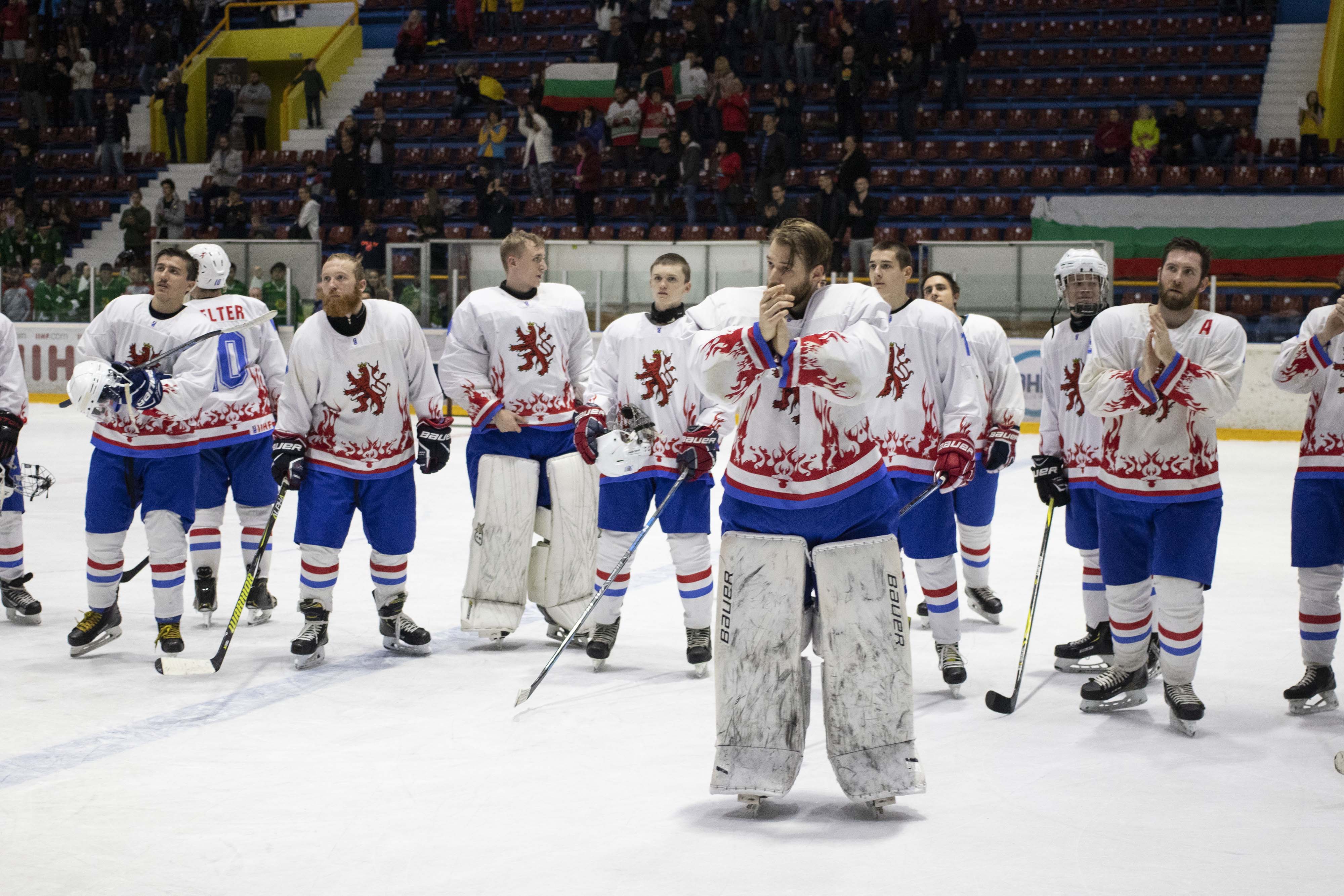 Luxembourg look to the future after disappointing WC campaign
On April 16th 2017, the Luxembourg senior men's Ice hockey team defeated host nation Bulgaria by a resounding 10-4 to be crowned IIHF Division III world champions. A little more than 2 years later, Team Luxembourg returned to Bulgaria with dreams of repeating their success of 2017. Only 7 of the 25 players that played in the gold medal game in 2017 returned this year. In the weeks leading up to the tournament the Luxembourg coaching staff of Petr Fical & John Bierchen put an emphasis on youth in their team selection. The youngest member of the 2019 class was Vladislav Shelest at 16 years 5 months young. With 25% of the squad under 20, this was a team built for the future. With that being said, team Luxembourg entered the tournament full of optimism and the focus was squarely on the gold medal.
First up for the Lions was a match-up they have struggled to win in the past, in fact, the last time Luxembourg faced Turkey it was the men from the East of the Balkan peninsula who walked out 10-2 winners. That was 2016, this is 2019 and the young Lions would ultimately erase the demons of that loss to win the opening match 3-2 on the back of the stellar goaltending of rookie Marcus Anselm. 
Game 2 would see Luxembourg face Chinese Taipei. The squad from the East China Sea entered the tournament without a full roster. Canadian head coach Ryan Lang electing to bring only 17 of the allowed 20 players to Bulgaria. However, among those 17 players were offensive powerhouses To Weng and Hung-Ju Lin who would combine to score 27 points in just 5 games. Despite a spirited effort it would be Chinese Taipei that upset the favourites Luxembourg en route to a 5-4 victory. A missed opportunity for the Lions to stay at the top of the standings.
After a rest day filled with video review and training sessions on Wednesday, Luxembourg approached game 3 against South Africa with renewed purpose. With South Africa winless at this point having lost 12-2 and 7-2 to Bulgaria and Turkmenistan respectively Luxembourg were expected to secure the 3 points with ease. Reality though would be different. It was South Africa that would score first which served as a necessary wake-up call to the Lions. A dominating 2nd period from Sacha Backes and Benny Welter with 2 goals each would settle the nerves and Luxembourg would get past South Africa 5-2 and put themselves back into contention for the gold medal. 
On day 4 of the tournament Luxembourg had a clear path. Defeat newcomers Turkmenistan and hosts Bulgaria and they would be crowned champions once again. After arguably the Lions' best 20-minute period of the tournament, they entered the 2nd leading 2-0 and cruising towards a gold medal game. However, as rapidly as Luxembourg would gain their advantage, they would lose it. A nightmare 2nd period ended with the scores locked at 3-3. A draw would give them a mountain to climb, a loss would end the gold medal dream. In heartbreaking fashion it would be Turkmenistan that would secure a famous victory and crush the Lions' spirits.
On Saturday there would be no games so team Luxembourg took the opportunity to rest their battered bodies. A week-long tournament is physically challenging for the most experienced of players and this squad was filled with talent competing for the first time in such an environment. In game 5 on Sunday against the newly crowned champions Bulgaria, it would show. The host nation would hammer the youthful Lions in a resounding 7-0 win, ending Luxembourg's small chance of leaving the tournament with a medal. 
Though Luxembourg would travel home empty-handed, there are plenty of positives to take away from the 2019 World Championships. As previously stated this was a very young team, but the professionalism they showed throughout the week demonstrated that they are serious about their roles of representing Luxembourg on the world stage. Early success can be dangerous long-term as arrogance can creep into a team's play. These young players now know that in order to win a world championship medal they need to continue their growth as players both on and off the ice. Building their bodies to last 5 gruelling games in 7 days will be a priority, along with expanding their tactical knowledge from the world class coaching staff Luxembourg has to offer. 
The 2019 IIHF Division III world championships are now in the past and after a few weeks of rest, the attention of the Luxembourg national team will turn to preparing for the 2020 games and another shot at a gold medal and promotion to Division 2B. North Korea, United Arab Emirates and Chinese Taipei will join Turkey and Turkmenistan, who showed incredible respect to the Lions with a guard of honour following the loss to Bulgaria, as the opposition in 2020. The dates and location of the tournament will be revealed after the IIHF congress in the summer. 
Article by: Liam McEvoy
Luxembourg MVP: Kevin Grönlund
Luxembourg tournament MVP: Philippe Bechtold.
Le Luxembourg regarde vers l'avenir après une campagne décevante
Le 16 avril 2017, l'équipe masculine senior de hockey sur glace du Luxembourg battait la Bulgarie par un retentissant 10-4 et s'offrait le sacre de championne du monde de la Division III de l'IIHF. Un peu plus de 2 ans plus tard, l'équipe luxembourgeoise revenait en Bulgarie avec le rêve de réitérer son exploit de 2017. Seulement 7 des 25 joueurs de la médaille d'or de 2017 étaient de la partie en 2019. Dans les semaines qui ont précédé le tournoi, les entraîneurs luxembourgeois de Petr Fical et John Bierchen avaient mis l'accent sur la jeunesse de cette équipe. Les jeunes Lions ont manqué le coche dans la dernière journée. Ils ont été humiliés par la sélection bulgare. Le plus jeune de cette classe 2019 était Vladislav Shelest avec 16 ans et 5 mois. Avec 25% de l'effectif ayant moins de 20 ans, l'équipe était plutôt programmée pour l'avenir. Cela dit, l'équipe luxembourgeoise avait entamé le tournoi sur une belle note d'optimisme et la médaille d'or restait un objectif.
La dernière fois que le Luxembourg avait affronté la Turquie en 2016, les hommes de l'Est de la péninsule balkanique l'avait emporté sur un cinglant 10:2. C'était en 2016, nous sommes en 2019 et les jeunes Lions ont vaincu le signe indien en remportant leur match d'ouverture 3-2 grâce au dos de l'excellent gardien de but Marcus Anselm, nouvelle recrue.
Le deuxième match voyait le Luxembourg affronter Taiwan. L'équipe de la mer de Chine orientale est entrée dans le tournoi sans une équipe complète. L'entraîneur-chef canadien Ryan Lang avait choisi de n'amener que 17 des 20 joueurs autorisés en Bulgarie. Mais parmi ces 17 joueurs se trouvaient les puissants offensifs To Weng et Hung-Ju Lin qui ont marqué à eux seuls 27 points en seulement 5 matchs. Malgré beaucoup de fougue, c'est Taiwan qui bousculait les pourtant favoris luxembourgeois avec une victoire 5:4. Une première occasion manquée pour les Lions de rester en tête du classement.
Après une journée de repos consacrée à l'analyse vidéo et aux entraînements, le Luxembourg a abordé le match 3 contre l'Afrique du Sud sur de nouvelles bases. L'Afrique du Sud n'ayant pas gagné jusque-là, après avoir perdu 12-2 et 7-2 contre la Bulgarie et le Turkménistan respectivement, le Luxembourg devait facilement s'assurer les 3 points. Mais la réalité fut différente. C'est l'Afrique du Sud qui ouvrait le score, réveillant par la même des Lions apathiques. Une deuxième période crispantes sur laquelle planèrent Sacha Backes et Benny Welter, avec 2 buts chacun et le Luxembourg battait finalement l'Afrique du Sud 5:2 et se remettait dans la course pour la médaille d'or.
Pour le 4ème jour du tournoi, la voie du Luxembourg semblait toute tracée. En battant le Turkménistan, nouveau venu, et la Bulgarie, pays hôte, les Lions pouvait envisager une nouvelle fois le sacre. Après la meilleure période de la compétition, les Lions entamaient parfaitement le match en s'imposant 2:0. Cependant, ils perdaient cette avantage aussi rapidement qu'ils l'avaient obtenu. Le 2ème tiers-temps, cauchemardesque se terminait sur un score de 3-3. Un nul leur offrait une montagne à gravir, une défaite mettait fin au rêve de médaille d'or. C'est le Turkménistan qui remportait finalement la victoire et anéantissait les espoirs des Lions.
Samedi, il n'y avait pas de matchs et l'équipe luxembourgeoise en a profité pour panser ses plaies. Un tournoi d'une semaine est un défi physique pour les joueurs les plus expérimentés. Si cette équipe a montré beaucoup de talent pendant les 4 premiers matchs, il s'agissait de le confirmer dans le match 5, dimanche, contre la Bulgarie, d'ores et déjà assurée de la médaille d'or. Le pays hôte a écrasé les jeunes Lions 7:0, les privant par le même coup d'une médaille.
Si le Luxembourg repartait les mains vides de ces championnats du monde 2019, il convient de retenir de nombreux points positifs. Comme nous l'avons déjà dit, il s'agissait d'une équipe très jeune, mais le professionnalisme dont elle a fait preuve tout au long de la semaine a démontré qu'elle était très crédible dans son rôle de représentante du Luxembourg sur la scène internationale. Un succès précoce fut préjudiciable sur le long terme, car peut-être que l'arrogance s'est s'immiscée dans le jeu luxembourgeois. Ces jeunes joueurs savent maintenant que pour remporter une médaille aux championnats du monde, ils doivent continuer leur maturation en tant que joueurs sur et hors de la glace. Travailler physiquement pour pouvoir tenir 5 matchs exténuants en 7 jours sera une priorité. Progresser tactiquement en sera une autre et ils pourront pour cela compter sur un encadrement de classe mondiale dont le Luxembourg a la chance d'être doté.
Les championnats du monde de la Division III de l'IIHF 2019 sont désormais terminés. Après quelques semaines de repos, les regards se porteront vers la préparation de l'édition 2020 et une nouvelle chance de remporter la médaille d'or, et ainsi une promotion en Division 2B. La Corée du Nord et les Émirats arabes unis rejoindront la Turquie, Taiwan et le Turkménistan. A noter que ces 3 équipes ont fait preuve d'un magnifique respect pour les Lions en leur offrant une haie d'honneur après la défaite contre la Bulgarie. Les dates et le lieu du tournoi seront dévoilés après le congrès de l'IIHF cet été.