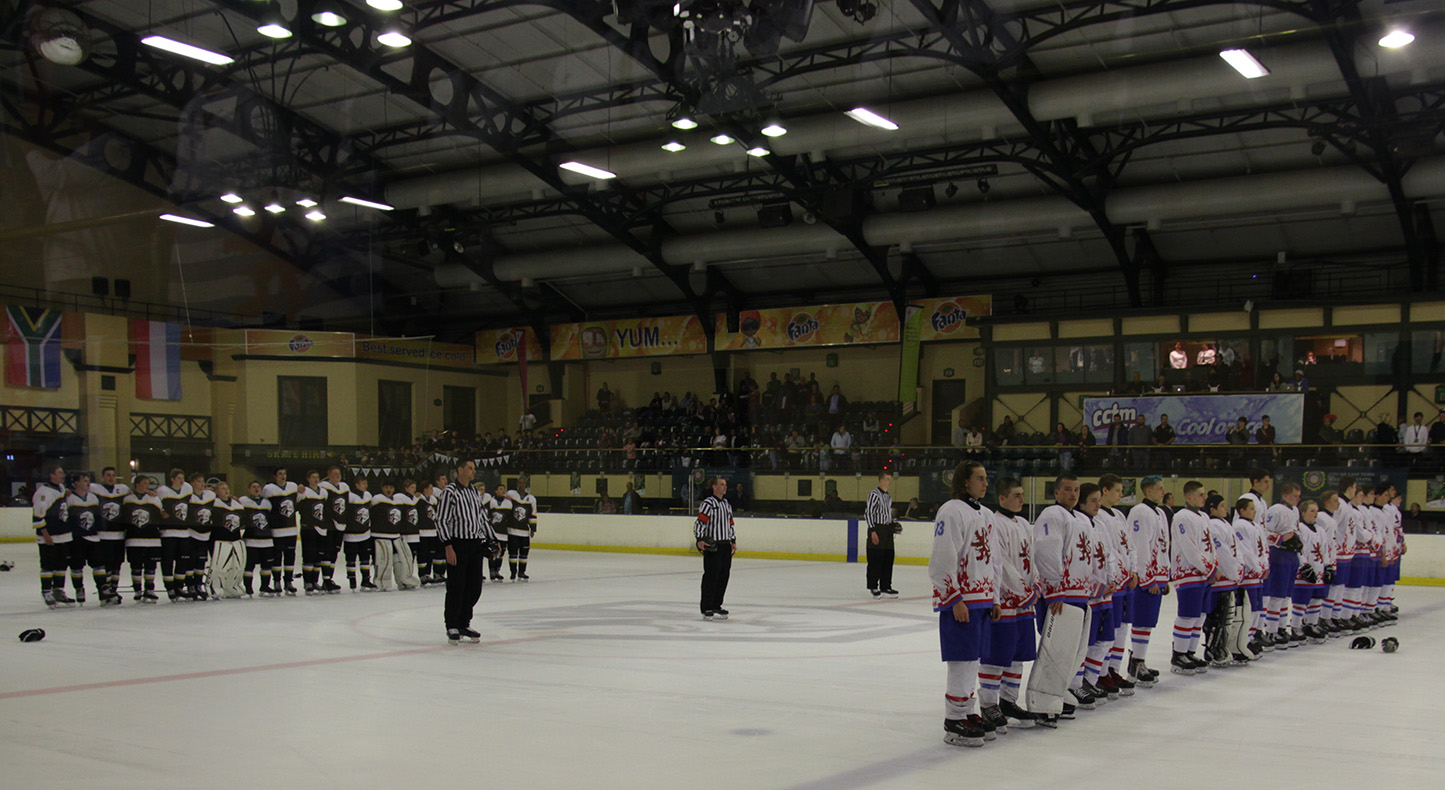 Heartbreaking loss on penalties after an amazing fight / Batter Defaite fir dei rout Leiwen am Penalty schèissen, no engem harden Match / Les lionceaux défaits aux tirs au but après un combat époustouflant
EN
After a furious fight, our U18s managed to make an impressive comeback, turning a two-goal deficit into a one goal lead. Unfortunately, that didn't last until the end and South Africa equalized the game with just 25 seconds left on the clock. The thriller ended in penalty shots where South Africa clinched the game on the 5th round of shooters.
Both teams entered the game without wins. So that meant the winner would take the bronze medal in the tournament. Luxembourg started well and Vlad Shelest, who played very a strong tournament and will continue his season with the seniors in Bulgaria, started the scoring with a beautiful top shelf shot. The lead lasted 12 minutes before South Africa managed to score two goals towards the end of the period. The hosts would take a 2-1lead into the first intermission.
 In the second period South Africa took a two-goal lead after 5 minutes of play. A bit more than halfway through the period, Shelest threw the puck on the net and it found its way into the goal between Niklas Meijer's and the South African goalie's legs. 3-2 after 40 minutes.
In the the final period it looked like South Africa managed to crack the spine of the Luxembourgers when they scored to make the score 4-2 after 4 minutes of play. But that wasn't the case. Luxembourg's first line started to put on a show by scoring 3 goals in 10 minutes. Two of the goals were scored by Niklas Meijer and one by Hilmir Ingvason. Suddenly Luxembourg had a one goal lead and the bronze medals were looming in their eyes.
Just 2 minutes before the end Luxembourg suffered a penalty. The start of penalty killing went well and the Lions managed to dump the puck several times out of their zone. Painfully, the worst thing happened just 25 seconds before the end when South Africa's Luca Meyer finalized his hat trick and exploded the substantial home crowd.
Overtime didn't provide a goal and the game went to penalties. Penalty shots are always a coin flip and this time the coin landed to show the win for South Africa.
Huge disappointment was seen on the faces of our young lions. But from the side of the rink it can be said that it was a spectacular fight and the players proved that they belong in international games. The time for deeper analysis is later but already it can be said now that a new era in Luxembourgish hockey has started with this junior team and I hope that all players keep working hard and next year they will come back to the World Championships stronger and one year more experienced.
************************
LU
No engem ganz physechem Match, huet eis U18 een beandrockende Comeback bruecht, an huet aus engem Reckstand vun 2 Punkten eng Feierung vun engem Punkt erreescht. Leider konnten se deen Virsprong net beibehaalen, well Südafrika, 25 Sekonnen firum Schluss, ausgleichen konnt. Desen Thriller koum am Penalty schéissen zu engem Enn, wie Südafrika den Match no dem 5. Treffer, den Match fir sech entscheeden konnt.
Béid Équipë haaten bis zu desem Match nach keen Spill an desem Tourneier gewonnen. Woumatt den Gewënner vun desem Match d'Bronzemedaille gewannen konnt. Lëtzebuerg huet gutt ugefaang an den Vlad Shelest, deen e ganz staarken Tournoi gespillt huet a seng Saison mat den Senioren a Bulgarien weiderfeiert, huet mat engem schéinen Schoss an den ierweschten Eck Letzebuerg an Feirung bruecht. Désen Firsprong konnt Letzebuerg genau 12 Minutten haalen, bis Südafrika zwee Treffer landen konnt, an dei eischt  Period mat 2-1 fir den Organisateur vun desem Tournoi zu Enn goung.
 An der zweeter Period huet Südafrika mat engem weideren Treffer hieren Virsprong no 5 Minutte op 2 Punkten erweidert. Kuerz no der Halschent vun deser Period schéisst den Shelest de Puck Richtung Netz, deen tescht den Been vum Niklas Meijer an dem Südafrikaneschen Goalie säin Wee an den Goal fennt.
 3-2 an der 40. Minutt.
An der drëtter Period huet et dunn ausgesinn wéi wann Südafrika den Letzeboier d`Reckrad giff briechen, wei sie hier Feierung no 4 gespillten Minutten op 4:2 erheijen. Mä dat war net de Fall. Déi éischt Linn vun den lëtzebuerger konnt no 10 gespillten Minutten mat 3 Goaler äntveren. Zwee dovunner goufen vum Niklas Meijer geschoss an een vum Hilmir Ingvason. Op eemol wor Lëtzebuerg an Feirung an d'Spiller hun d'Chance op d'Bronzemedaille rem firun Aen gehaat.
Just 2 Minutte virum Enn krut Lëtzebuerg eng Strof. De Start vun dem Penaltyspill ass gutt gaangen an d'Lëiwen konnten den Puck emmer rem aus hierer Zone brengen. Nemmen 25 Sekonnen firum Schluss huet den Luca Meyer sein Hat Trick komplett gemaach an den Ausgleich fir Südafrika bruecht, waat d'Publikum zum explodeieren bruecht huet.
D'Nospillzeit huet nach emmer keen Gewenner kreinen kennen, woumadder et an d'Penalty schèissen goung. Penalty schèissen ass eben wei eng Mentz werfen, dest keier ass se zu gonschten vun Südafrika gefall.
Eng grouss Enttäuschung wor op de Gesichter vun eisen jonke Lëiwen ze gesinn. Mee vun der Säit vum Rink kann een soen datt et e spektakulären Kampf wor an d'Spiller hunn bewisen datt si zu den internationale Spiller gehéieren. Eng grendlech Analyse kennt spéider, wichtesch ass, datt déi nei Ära vun Lëtzebuergeschem hockey mat dëser Junioréquipe ugefaangen huet an ech hoffen, datt d'Spiller weiderhin haart schaffen an datt sie d'nächst Joer nachengkeier d'Weltmeeschterschaft untrieden wou se mei staark an mat engem weideren Joer Erfahrung den Geigener trotzen.
***************************
FR
Après une lutte acharnée, nos U18 ont réussi un magnifique retour, passant d'un déficit de deux buts à une avance d'un but. Malheureusement, cela n'a pas duré et l'Afrique du Sud a égalisé à 25 secondes de la fin. Le suspense a duré jusqu'au bout avec une séance de tirs au but au court de laquelle l'Afrique du Sud finissait par remporter le match au 5ème tour de fusillade.
Les deux équipes entamaient toutes les deux ce match sans victoire à leur compteur respectif. De fait, le vainqueur remportait donc la médaille de bronze de ces championnats du monde. Le Luxembourg entamait la partie de la meilleure des manières et Vlad Shelest, remarquable durant ce tournoi, et qui poursuivra sa saison avec les seniors en Bulgarie, ouvrait le score d'un magnifique lancer sous la barre. Malheureusement cette avance à la marque ne dura que 12 minutes, l'Afrique du Sud inscrivant deux buts en fin de période. Les hôtes menaient 2-1 à la pause.
En deuxième période, l'Afrique du Sud prit une avance de deux buts dès les 5 premières minutes de jeu. A la moitié du tiers-temps, Shelest sur un lancer trouvait le but entre à la fois les jambes de Niklas Meijer et celle du gardien de but sud-africain. 3-2 après 40 minutes.
Dans la dernière période, tout le monde pensait que l'Afrique du Sud avait anéanti tout espoir chez les Luxembourgeois en inscrivant le but du 4-2 après 4 minutes de jeu. Mais c'était loin d'être le cas. La première ligne luxembourgeoise se mis remarquablement en évidence en inscrivant 3 buts en 10 minutes. Niklas Meijer par deux fois puis Hilmir Ingvason ramenaient le Luxembourg dans la course. Les Lions touchaient la médaille de bronze du bout des doigts avec cette avance d'un but.
A 2 minutes de la fin, le Luxembourg se voyait siffler une pénalité. En infériorité numérique, les lionceaux jetaient toutes les forces. Mais à 25 secondes de la fin du match, le sud-africain Luca Meyer, finissait d'accomplir son tour du chapeau. Le public sud-africain exultait. 5-5 après 60 minutes.
Les prolongations restaient stériles et ce seront donc les tirs aux buts qui détermineront cette disputée médaille de bronze. Les tirs de pénalité sont toujours un jeu de roulette russe. Et cette fois, ce furent les sud-africains qui en sortirent gagnants.
Une profonde déception marquait les visages de nos jeunes lions. Mais sur la glace, les joueurs ont prouvé qu'ils avaient leur place dans sur la scène internationale après un combat livré sans calcul. Le temps de l'analyse plus approfondie viendra plus tard. On peut néanmoins déjà dire qu'une nouvelle ère du hockey luxembourgeois a commencé avec cette équipe junior. J'espère de tout cœur que tous les joueurs continueront à travailler dur pour revenir plus forts aux championnats du monde l'année prochaine. Cette défaite n'est que porteuse d'expérience et de lendemains radieux.