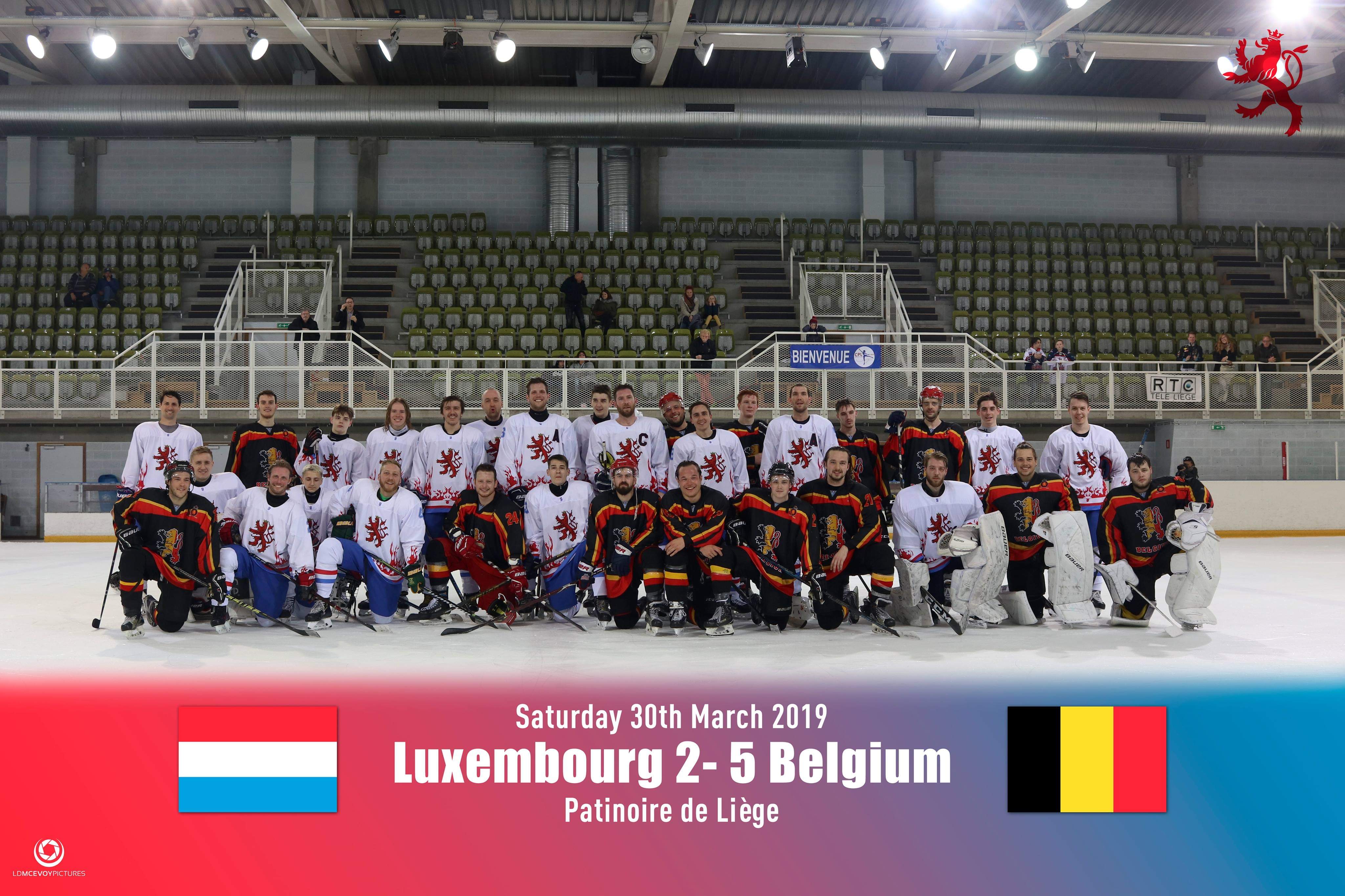 Game report (EN - LU - FR)
EN
On Saturday night in Liege, in front of a small home audience, team Luxembourg fell to a 5-2 defeat against team Belgium. 
The 37th world ranked Belgium provided a stern test for the young Luxembourgers hoping to earn a spot on the world championship roster. 
As Luxembourg play 2 divisions below Belgium, head coach Petr Fical instructed his players to take advantage of their position as underdogs, play free of fear and enjoy the privilege of representing their country on the international stage. 
The game started nervously though for Luxembourg and after 2min 52s Belgium found the back of the net. The home team's swift skating and crisp passing proving a handful for a luxembourg team missing many senior players. 
 With 10min 29s gone in the 1st period Belgium struck again to make it 2-0, a lead they would hold going into the 1st intermission. 
In the 2nd period Luxembourg came out with more jump and the first line of captain Colm Cannon, Marcus Ericsson &
Sacha Backes had some good spells of possession, forcing Belgium into 3 penalties. Somewhat against the run of play though, Belgium struck again to extend their lead to 3-0. 
In hockey the age-old saying "play until the whistle" was very present for Luxembourg on this night, as with only 1 second left of the clock, Colm Cannon fed Team Manager Teemu Hinkula (standing in for the missing Ronny Scheier) who riffled home from close range. At the end of the 2nd the score was Belgium 3-1 Luxembourg. 
In the 3rd period Belgium reasserted its superiority and notched up 2 more goals to take a 5-1 lead going into the final minutes of the game. With only 23 seconds remaining and down by 4 goals the Luxembourg coaching staff made the unusual decision to call a time-out, much to the bemusement of some Belgian players. However, once again Luxembourg's never-say-die attitude was apparent and this time with 8 seconds left colm cannon scored his 2nd and the game ended Belgium 5-2 Luxembourg. 
Last year Lions lost to Belgium with big numbers so we can say that this was a good result. Belgium didn't have their full roster but neither had Lions who were missing most of the defence forces and also players like Benny Welter and Michael Cannon from front.
After the game coach Fical spoke glowingly about the result against an opponent of such high caliber as team Belgium. The selection process for the world championships draws to a close next week with 1 final friendly game on Tuesday night at Kockelscheuer against a selection of Tornado & Puckers players. 
Bulgaria and the world championships draws ever nearer and our Lions will soon be #ReadyToRoar
*************************
LU
Den Samsdegowend huet daat Letzebuergescht Team, vis-à-vis vun net all ze villen Zuschauer, 5-2 verluer.
Déi op der Weltranglescht  37. placéierten Belsch Equipe, huet Letzebuerg, déi gehofft hun eng Plaatz am Kader ze kréien, virun eng schwiereg Aufgab gestallt.
Well Letzebuerg 2. Divisiounen ennert den Belge spillt, huet hieren Trainer den Petr Fical, den Spiller gesoot sie sollen hier Positioun als "Underdog" unhuelen, keng Angscht hun an den Privileg ze hunn vir hiert Land op engem Frendschaftsmatch op internationalem Niveau ze vertrieden.
D'Spill huet nervös vir Letzebuerg ungefaangen, an schon no 2min.52 hunn d'Belge  den Wee an den Goal fonnt. D'Heemteam as schnell Schlittschung gefuer an hunn schnell an prezis Passen gemaach, an domadden den Letzebuerger (wou vill vun hieren erfahren Spiller gefehlt hun) eng schwéier Aufgab gestallt. 
No 
10min.an
 29sek. am éischten Drettel, huet d'Belge et gepackt den 2-0 ze schéissen, wou se och bis an déi éischt Paus gehaalen hun. 
Letzebuerg ass am zweeten Drettel  mat méi Elan eran komm an déi éischt Ligne mam Colm Cannon, Marcus Ericsson an Sacha Backes hun e puer gudd Puckbesetzer gehaat  an hun dovir gesuecht dass d'Belge 3 Fehler gemaach, an 3 Stroofen kritt hun. Trotz dem gudden Laaf deen d'Letzebuerger an dem Moment haaten, hun d'Belge et gepackt den Spillstand op 3-0 ze erhéigen. 
D'Letzebuerger hun den gudden aalen Hockeysproch "Spill bis zum Schluss" hieren Eegenen gemaach, an mat nemmen 1. Sekonn op der Auer, huet den Colm Cannon dem Teemu Hinkula (deen vir den fehlenden Ronny Scheier agesprongen ass) den Puck virgeluecht, den hien op kuerzer Distanz eran geschoss huet. Zum Schluss vum zweeten Drettel stung et 3 vir Belge an 1 vir Letzebuerg.
Am dretten Drettel huet d'Belge erem hier Iwwerléenheet erfier gehuewen an hun nach 2 Goaler geschoss, waat zu enger Féierung vun 5-1 an den leschten Minuten vum Spill, gefouert huet. Mat nemmen 23 Sekonnen an enger Differenz vun 4 Goaler, hunn déi  letzebuergesch Trainer déi komesch Décisioun geholl, eng Auszäit ze huelen, waat bei den belgen Spiller vir Verwirrung gesuecht huet. Letzebuerg huet gewisen dass sie no der "Niemols opginn" Anstellung spillen, an daat huet den Colm Cannon 8 Sekonnen virun Enn mat engem zweeten Goal vir Letzebuerg bewisen, waat zu engem Endstand vun 5-2 vir d'Belge gefouert huet.
Daat lescht Joer hunn eis Léiwen wierklech héisch géint d'Belge verluer, also kennen maer soen dass maer een gudd Resultat erausgespillt hun. Weder d'Belge, nach d'Letzebuerger haaten hieren kompletten Kader. Bei den Letzebuerger hunn der vill vun der Verteigegung ewéi och eis Stiermer, den Benny Welter an den Michael Cannon, gefehlt.
Noom Spill as den Rainer Fical nemmen nach begeeschtert gewiecht an huet sech nemmen gudd iwwert d'Resultat géint esou gudd Géigner wéi d'Belge geäussert. D'Selektioun vir d'Weltmeeschterschaft gett déi nächst Woch, noo engem Frendschaftsmatch den Denschdegowend op der Kockelscheier wou en eng Auswiel vun Tornado an Puckersspiller, beschloss.
Bulgarien an Weltmeeschterschaft kennt emmer méi no, an eis Léiwen sin prett vir ze brellen #ReadyToRoar
****************
FR
Samedi soir à Liège, devant un public local restreint, l'équipe du Luxembourg s'est inclinée 5-2 face à l'équipe de Belgique. 
La Belgique, 37ème au classement mondial, constituait un test de haut niveau pour ceux des jeunes Luxembourgeois qui espéraient encore gagner une place dans l'équipe qui partira le championnat du monde en Bulgarie. 
Alors que le Luxembourg est 2 divisions en dessous de la Belgique sur l'échiquier mondial, le sélectionneur Petr Fical avait insisté auprès de ses joueurs afin qu'ils profitent de cette position d'outsiders pour jouer sans pression et apprécier à sa juste valeur de représenter leur pays sur la scène internationale. 
Mais le match commençait sur un rythme nerveux pour le Luxembourg et il ne fallut que 2min 52s à la Belgique pour trouver le fond du filet. La rapidité du patinage de l'équipe locale et ses passes millimétrées ont fait très mal au Luxembourg, qui plus est handicapé par des absences majeures parmi les cadres de l'équipe. 
Après 10min 29s, la Belgique frappait de nouveau et creusait l'écart à 2-0, une avance qu'elle conservera à l'entame de la 1ère mi-temps. 
En 2ème période, le Luxembourg remontait sur la glace avec plus d'intensité. La première ligne composée du capitaine Colm Cannon, de Marcus Ericsson et Sacha Backes eu de bonnes périodes de possession, forçant la Belgique à 3 pénalités. Mais, un peu contre le cours du jeu, la Belgique frappait de nouveau et aggravait le score à 3-0. 
Au hockey, un vieux dicton dit qu'il faut "jouer jusqu'au coup de sifflet". Le Luxembourg nous l'a rappelé ce samedi. Alors qu'il restait une petite seconde au tableau d'affichage, Colm Cannon donnait une offrande à Teemu Hinkula (remplaçant du précieux Ronny Scheier, absent) qui marquait sans trembler à bout portant. Les joueurs rentraient aux vestiaires sur le score de 3-1 pour la Belgique. 
En 3ème période, la Belgique réaffirmait sa supériorité en marquant 2 buts en fin de tiers-temps pour porter le score à 5-1. Avec seulement 23 secondes à jouer et 4 buts d'écart, les entraîneurs luxembourgeois surprenaient le banc belge en demandant un un temps mort et le Luxembourg rugissait de nouveau dans la foulée en inscrivant son deuxième but à 8 secondes du coup de sifflet final. Le score final sera de 5-2 pour la Belgique. 
En 2018, les Lions avait déjà perdu contre la Belgique par un score sans appel. La prestation d'hier fut bien plus encourageante. Certes certaines diront que la Belgique n'avait pas son effectif complet, mais il en était de même chez les Lions avec des absences remarquées en défense, tout comme celles de Benny Welter et Michael Cannon en attaque.
Après le match, l'entraîneur Fical se montrait d'ailleurs séduit par ce résultat, contre un adversaire d'un calibre aussi élevé. Le processus de sélection pour les championnats du monde prendra fin la semaine prochaine avec un dernier match amical mardi soir à Kockelscheuer contre une sélection de joueurs du Tornado et des Puckers. 
La Bulgarie et les championnats du monde (22-28 avril) se rapprochent à grands pas et nos Lions seront sans aucun doute bientôt prêts à rugir #ReadyToRoar