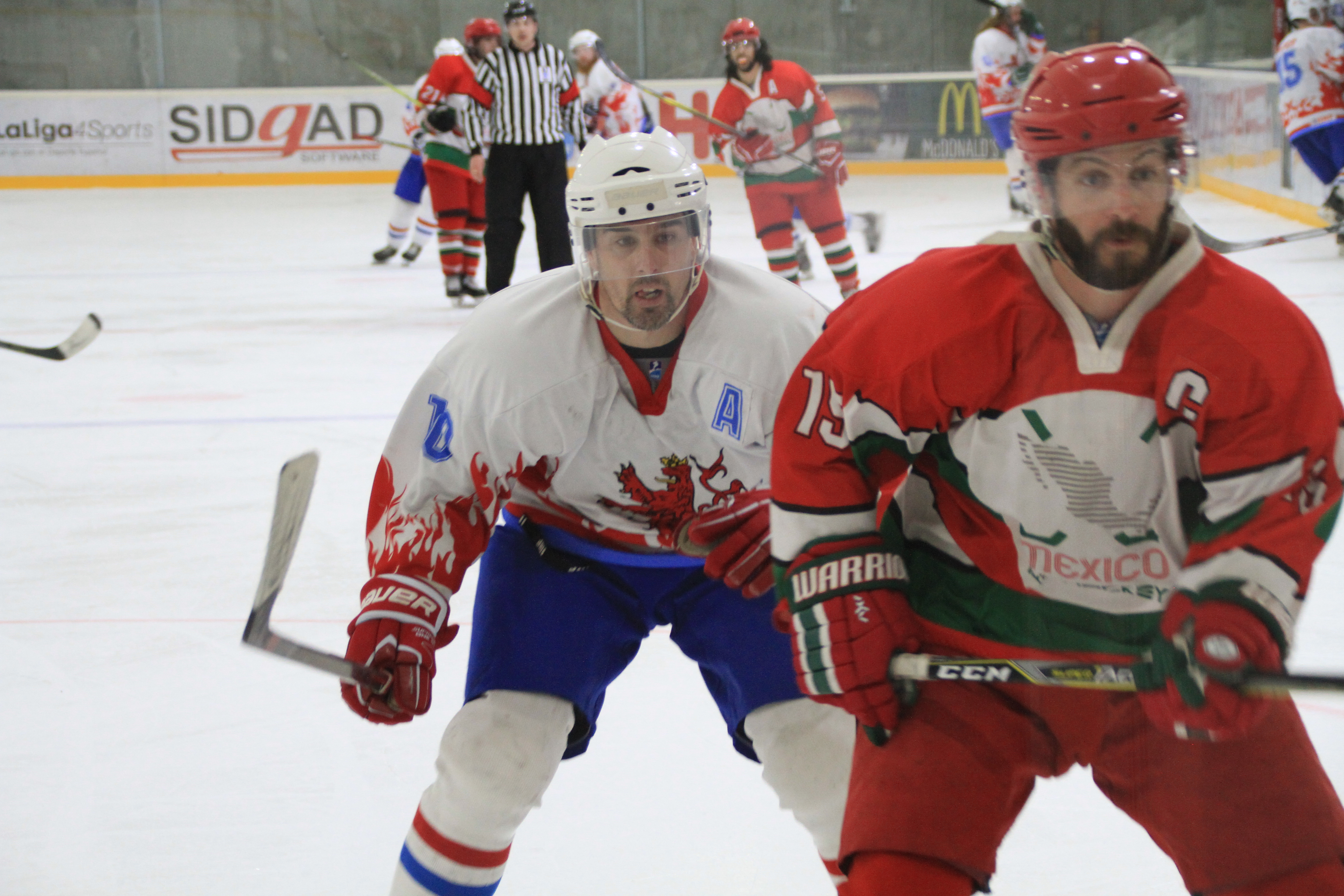 En Freideg, brauchen mir zwee Goler fir ze gewannen. / 2 goals victory needed on Friday / Obligation de victoire par 2 buts d'avance ce vendredi.
LU
Donneschdeg Nomëttes huet Lëtzebuerg eng schwéier 3-1 Defaite géint Mexiko missen astéichen.  D'Léiwen hunn de Match gutt ugefaangen an et ass hinne gelongen de Puck an der defensive Zone vun Mexiko ze halen.  De Elan gouf gestoppt wéi Lëtzebuerg an der 6. Minutt zwou Strofen krut.  Mexiko huet säin Powerplay ausgenotzt an den éischte Gol geschoss.  No de Strofen huet Lëtzebuerg Drock gemaach ma konnt awer keen Gol schéissen.
Am zweeten Drëttel konnt een e méi staarkt Mexiko gesinn, an d'Spill war mei ausgeglach.  De Phil Lepage huet e puer weltklasse Saves missen hileeën fir seng Equipe am Match ze halen.  An der Mët vum Drëttel, ass et Mexiko gegléckt säin zweete Gol ze schéissen an es ass nach méi schwéier fir Lëtzebuerg ginn.
Zum Gléck huet Mirko Mosr zwou Minutten méi spéit am Powerplay Modus säin drëtten Championatsgol geschoss.  Hien gouf assistéiert vum Claude Mossong an Benny Welter.  De Mirko Mosar huet 75 Prozent vun de Lëtzebuergeschen Goler geschoss.
Am drëtten Drëttel hunn d'Léiwen hire Kampfgeescht gewisen an hunn den Drock op de Mexikaneschen Goalie erhéicht. En Posten an een eidele Gol, an dach ass et den Léiwen net gegléckt een Gol ze schéissen. Zwou Minutten virum Schluss vum Drëttel, huet Mexiko eng Ouverture fonnt an en drëtte Gol geschoss. 
Dës Defaite mëscht et de Léiwen net méi einfach an der Grupp ze bleiwen.  Ausser, wann Lëtzebuerg Nord Korea klappt.  Déi lëscht dräi Equippen hunn dräi Punkten.  Dat heescht dass d'Goldifferenz entscheedend ass an Lëtzebuerg Nord Korea mat zwee Goler en Freiden um 13 Auer klappen muss. Net onméiglech ma et gëtt schwéier.  Nord Korea kann gutt skaten an gutt Passe maachen.  Dofir ass Lëtzebuerg physesch méi staark an Nord Korea schwaach am Gol.
En

On Thursday afternoon, Team Luxembourg suffered a painful 3-1 loss against Mexico. The Lions started rhe game well and they could keep the puck in Mexico's defensive zone. The momentum was stopped in the 6th minute when 2 penalties were called for Luxembourg. Mexico used the power play and scored the game opener. After the penalties, the Lions kept pushing but didn't manage to score.

In the second period, an even stronger Mexico was seen but the game was more even. Phil Lepage in Luxembourg's net had to do some world class saves to keep the team in the game.  Halfway through the period Mexico managed to score their second goal and things got harder for Luxembourg.

Luckily, only two minutes later Mirko Mosr scored his 3rd goal of the tournament on power play after being assisted by Claude Mossong and Benny Welter.  Mirko has scored 75 % of Luxembourg's goals in the tournament.

In the third period, the Lions showed their fighting spirit and put pressure on Mexico's net. One post and one empty net, but still Lions couldn't score. Two minutes before end of the period, Mexico cut a break out and scored 3-1 finals score.

This loss made the Lions' work to stay in the group harder. If Luxembourg beats North Korea the last three teams will have 3 points. It means that goal difference between those team's games matter and Luxembourg need to beat North Korea with 3 goals on Friday afternoon at 1pm. Not impossible but it's going to be hard. North Korea is a well skating and passing team. Lions chances will be in their bigger team and North Korea's weaker goaltending. 
FR
Jeudi après-midi, Team Luxembourg a subi une douloureuse défaite contre le Mexique (3-1). Les Lions ont pourtant fait une belle entame de match en gardant la rondelle dans la zone défensive mexicaine. Mais la dynamique était cassée dès la 6ème minute lorsque 2 pénalités furent données au Luxembourg. Le Mexique a parfaitement utilisé ce surnombre et ouvrait le score. Après ce but, les Lions continuaient à pousser sans toutefois réussi à marquer.
En deuxième période, le Mexique revint plus fort sur la glace et le match s'équilibrait. Phil Lepage a dû faire des arrêts de classe mondiale pour maintenir l'équipe dans le match. Au milieu de ce second tiers, le Mexique réussissait à marquer son deuxième but et les choses se compliquaient pour le Luxembourg.
Il ne fallait que 2 minutes à Mirko Mosr pour ramener l'espoir et inscrire son troisième but du tournoi sur un assist de Claude Mossong et Benny Welter, en surnombre. Mirko a marqué 75 % des buts luxembourgeois dans le tournoi.
En troisième période, les Lions ont montré un bel esprit combatif et mis la pression sur le filet mexicain. Malgré un poteau et une cage vide, les Lions ne réussissaient cependant pas à marquer et le Mexique anéantissait les espoirs luxembourgeois en inscrivant le 3-1 deux minutes avant la fin de la période.
Cette défaite rend la tâche difficile pour le dernier match des Lions. Si le Luxembourg battent la Corée du Nord, les trois dernières équipes auront toutes les trois 3 points. Cela signifie que le Luxembourg doit absolument battre la Corée du Nord par 2 buts vendredi après-midi à 13h. Ce n'est pas impossible, mais ce sera difficile. La Corée du Nord est une bonne équipe en patinage et en dépassement. Les Lions pourront s'appuyer sur un banc plus profond et devront profiter des petites faiblesses des gardiens Nord-Coréens.