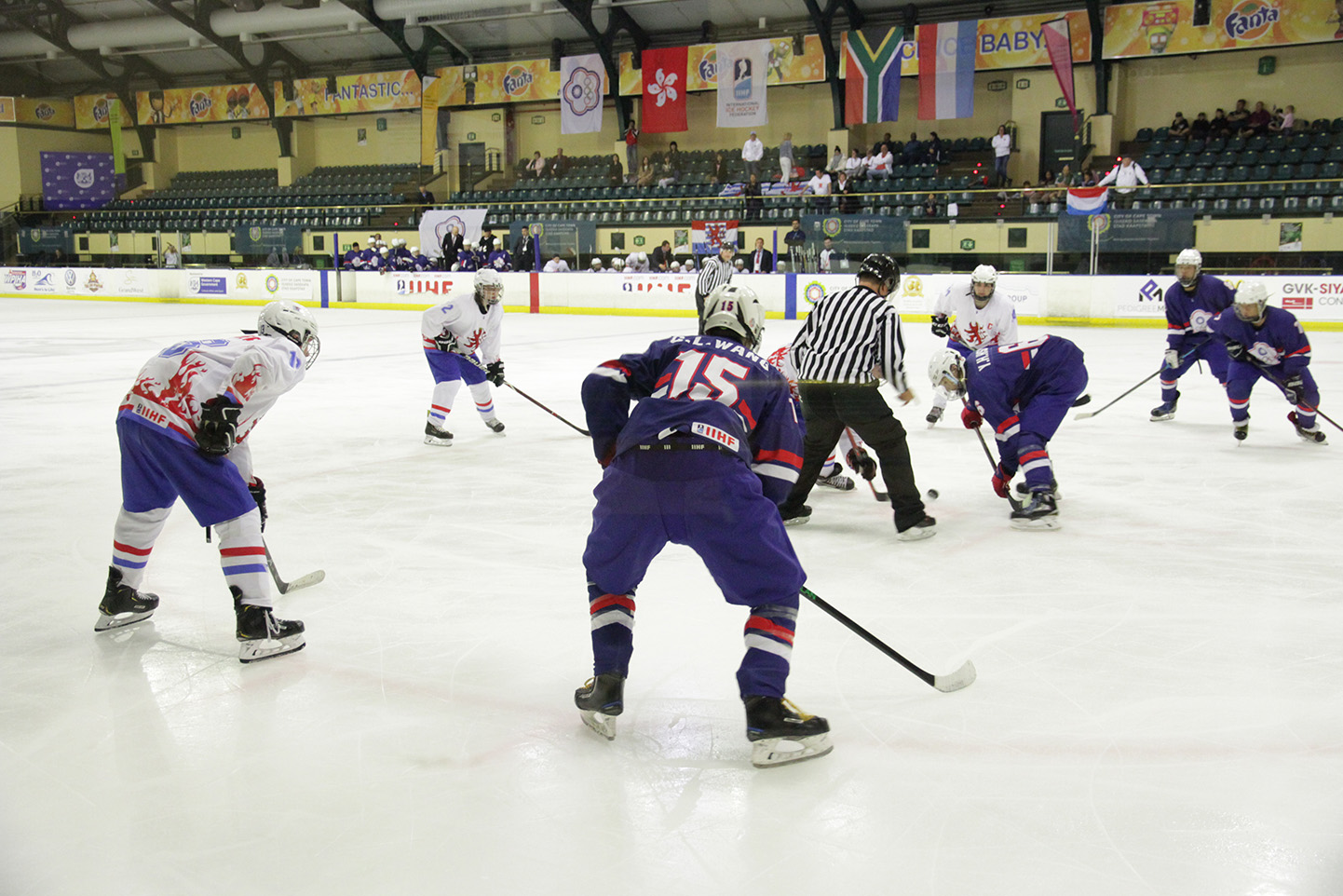 Chinese Taipei clinched the game in the 2nd period/ Chinesesche Taipei dréit d'Spill an der 2. Period/ Chinese Taipei a plié le match en 2ème période
EN

The U18 national team seems to have problems playing a full 60 minutes of hockey. After a good first period, Chinese Taipei took control in the second, which led them to win 9-2.
In the first period Luxembourg's "bulldozer hockey" worked well. The team managed to deliver the puck on the net more often than Taipei. The score however, after 20 minutes, was 2-1 to Taipei. Vlad Shelest scored for the Lions after a hassle in front of the Taipei net.
Taipei's power-play was very good in the first game and as their head coach, Ryan Lang, mentioned in the pre-game interview, they have been working a lot on it. In the second period, Taipei showed its strength by scoring two goals on said power-play. Afterwards they scored two more during the even strength 5 on 5 game. Niklas Meijer's (MVP of the game) goal wasn't enough to keep Lions in the game.
In the third period coach Fical decided to give ice time to the full roster. Mathis Ferretti made his tournament debut in the Luxembourg goal and made a couple of amazing saves. Taipei though managed to score 3 more goals and they game ended 9-2.
The team has a free day tomorrow. This means that they only have one day to find the tools to beat the physically large South African squad. In their first game, South Africa lost 4-2 to Taipei. It's going to be an interesting game as both teams are a combination of individual skills and physical power.
The game will be played on Friday at 18:00. The link to the live stream will appear on our website www.icehockey.lu
****************************
LU
D'U18 Nationaléquipe schéngt e Problem ze hunn fir 60 Minuten Aishockey ze spillen. No engem gudden ésichten Drettel huet Taipei d'Kontrol am zweeten Drettel iwerholl dat zu enger 8-2 Victoire geféiert huet.
Am eischten Drettel huet d'Lëtzebuerg hieren Bulldozer-Hockey gudd geklappt. D'Equipe huet et ferdeg bruecht méi Schëss op de Gol ze hun wéi Taipei, obwouhl de Score no 20 Minuten 2-1 fir Taipei war. De Vlad huet den  eischte Gol geschoss no engem Hassel beim Netz.
Taipei hieren Powerplay war ganz gutt an der éischter Période. Wéi de Coach Lang an engem pre-game Inerview gesoot hat, hunn sie dat oft trainéiert.  Am zweeten Drettel huet Taipei bewissen wat et konnt, an zwee mol am Powerplay je e Gol geschoss.  Duerno hun se och nach am 5 géint 5 nach zwee Goler geschoss, an och de Gol vun éisen Most Valuable Player Niklas Meijer konnt d'Léiwen net am Spill halen.
Am leschten Drettel huet de Petr Fical décidéiert seng ganz Equipe spillen ze loosen. Suguer de Mathis Ferretti huet sain éischten internatinal Match gespilt an dobai nach e puer gud Saves higeluegt. Taipei huet awer nach drai mol e Gol geschoss, an sou ass dunn d'Spill 9-2 fir chinesesch Equipe zu Enn gaangen.
Team huet elo en fraien Dag. Dat hescht en Dag Zait fir en Wee ze fannen dat méi starkt Südafrika ze klappen. Am éischte Spill huet Südafrika 4-2 géint Taipei verluer. Et waert en interessante Match ginn, kombinéieren beed Equipen souwuehl Särkt wie och individuael Skills.
D'Spill wäert e Fréideg gespillt ginn. De Link fannt dir wéi ëmmer op éiser Internetsäit www.icehockey.lu
****************************
FR
L'équipe nationale des moins de 18 ans semble avoir des difficultés à jouer 60 minutes pleines dans un match de hockey. Après une bonne première période, Taiwan a pris le contrôle dans la deuxième période pour s'imposer finalement 9-2.
En première période, le hockey bulldozer luxembourgeois a plutôt bien fonctionné. L'équipe réalisait plus de lancers sur le but adverse que son opposant du jour, mais sans que cela paie réellement puisque le score après 20 minutes était de 2-1 pour Taiwan. Vlad Shelest marquait un but difficile pour les Lions.
Les Taiwanais sont très bien rentrés dans leur tournoi, et ce dès le premier match. Comme l'entraîneur Lang l'a mentionné en interview d'avant-match, ils ont effectué un gros travail de préparation. Dans le deuxième tiers-temps, Taiwan montrait toute sa supériorité en marquant deux buts en power play, puis en inscrivait deux de plus à 5 contre 5. Le but de Niklas Meijer (MVP du match) n'a pas suffi à maintenir les Lions dans le match.
En troisième période, l'entraîneur Fical a décidé de donner du temps de glace à toute l'équipe. Ainsi Mathis Ferretti faisait ses grands débuts en tournoi et réalisait deux magnifiques arrêts. Taiwan inscrivait cependant 3 buts de plus et portait la marque finale à 9-2.
L'équipe dispose d'une journée libre désormais. Une journée qui sera utile pour trouver les clés nécessaires pour battre physiquement l'Afrique du Sud. Lors du premier match, l'Afrique du Sud s'est inclinée 4:2 face à Taiwan. Ce sera un match intéressant car ces équipes jouent toutes les deux sur les mêmes atouts à savoir une belle combinaison d'habiletés individuelles et de puissance physique.
Le match se jouera ce vendredi à 18h00. Le lien pour la retransmission en streaming apparaîtra sur notre site Web www.icehockey.lu.